Student profile: Sandesh Awade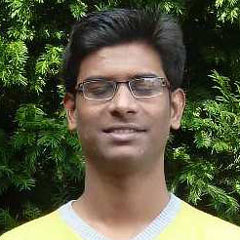 Name: Sandesh Awade
Course: MBA International Marketing
Hometown/Country: India
Why is Bangor University a good choice for the course you are studying?
When I first started looking for universities within the UK I consulted an agency to help me to try and make the selection process easier. The agency referred me to Bangor University and recommended it to me to be one of my final choices within the UK. I then investigated Bangor myself both as a University and as a city and found out it enjoys good reputation which then lead to me applying to study here. I also had a friend who had attended Bangor University himself and he recommended it to me so this helped make up my mind as well.
Tell us what you like about academic teaching quality at Bangor University?
The level of teaching quality at Bangor University was very good, all of the lectures and lecturers were good. The lecturers gave us a lot of practical information within each of the lectures which I liked very much and I found this to be very useful during my studies at Bangor.
What is the social life like in Bangor? Are you involved in any societies or sports teams? How easy it is to make friends here?
I had a good social life whilst living in Bangor, it was very easy to make lots of friends here. The people here are very nice and I felt welcomed by everyone I met, I made friends with both international and UK students which was also nice.
Your experience of living in university accommodation OR private accommodation?
I lived in private rented accommodation in a house which I shared with fellow Bangor University students. This house was in a prime location in Bangor, very close to the major supermarkets which was very convenient! It was also only a short walk to the university lecture buildings and I found the living costs to be very economical.
What do you think about Bangor and the surrounding area?
I found Bangor and the surrounding area very nice, and a pleasant place to live.
Experience of getting part-time jobs in Bangor? How easy is it to get one?
I found it quite easy to get a job in Bangor and I did not have to look too hard to find one.
How confident are you that Bangor university degree will help you in taking your career forward?
I am very confident that my degree from Bangor University will help me develop my future career, I have no doubts about this. Studying at Bangor University has set me up well for the future, this is due to the university's high teaching quality and the support I have been given throughout my time here.
What is the highlight/best thing about being a student at Bangor?
The three best things about being a student at Bangor are, firstly, it is a good place to study and there is a supportive learning environment throughout the university. Secondly the university has an international feel about it, I met many different people from all over the world during my time here and this was an aspect I enjoyed. Thirdly and most importantly, the outstanding quality of the teaching at Bangor University.
Describe Bangor in three words:
-