Student profile: Sergio Castellanos-Gamboa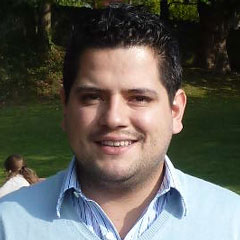 Name: Sergio Castellanos-Gamboa
Course: PhD in Banking and Finance
Hometown/Country: Bogotá, Colombia
Why is Bangor University a good choice for the course you are studying?
Currently the Bangor Business School is a recognized institution worldwide for its research in Banking. The school is currently ranked 14th in the top 10% institutions and economists in the field of banking, as of August 2014. That makes it very attractive for potential students interested in pursuing high-degrees such as MSc or PhD in the areas of Banking and Finance. The Business School also has a centre located in London for those students that want to be closer to the British financial centre, which is one of the biggest in the world. Additionally the University is constantly investing in new software, databases, journals and other sort of publications that allow students undertake a high-quality research using the appropriate tools.
Tell us what you like about academic teaching quality at Bangor University?
Although I'm taking a research course, which means I don't have to attend lectures but we do have a series of workshops for PhD students where you can enhance and improve your research skills. Beyond that, you can additionally take any lectures you find useful to increase your knowledge on specific topics. Moreover, students' opinions are very important to the University. Teachers are evaluated on a regular basis and students' suggestions and comments are taken seriously into account to continuously improve the teaching quality of the University. Beyond that, there are a series of workshops and seminars that help students in a broad range of areas such as: writing, learning new software, developing working skills and finding a job to start your career once you finish your course.
What is the social life like in Bangor? Are you involved in any societies or sports teams? How easy it is to make friends here?
The social life in Bangor is very vivid. Whether you are interested in meeting new people, exercising, attending cultural events or partying, you can find a whole set of different activities to get involved with. During welcome week, the university organized several events to help students meet new people and join the many clubs and societies that are free to join. The university also has many sports teams for almost any sport you can imagine, and if you don't find the one that interests you, you can always start your own society and the university will help you to do it. So whatever you're interested in doing you will always find friendly and welcoming people to make your experience at Bangor unforgettable.
Your experience of living in university accommodation OR private accommodation?
During my first year I lived in university halls. This allowed me to meet a lot of new friends from very different backgrounds. You will find that the people living in the halls with you will become like your family very soon. You will find friends to support you during the most challenging times, as well as people to share the best moments and experiences at Bangor with. Beyond that, the university is always concerned with your well-being and safety. Therefore they will constantly check that students' safety is guaranteed and will always offer help for any needs that you might have. The security staff in Bangor are also well-known for their kindness and willingness to help you and look after you at all times.
What do you think about Bangor and the surrounding area?
Bangor is located in North Wales and just over 3 hours from London by train. This means that you are close to one of the biggest cities in the UK, but at the same time you can enjoy the peace and beauty that makes North Wales a magical place. Bangor is also located very close to the Snowdonia National Park, and the Isle of Anglesey. This means that on the one hand you have the most amazing landscape full of mountains, rivers and roads to be discovered, but on the other hand you are also close to various beaches and woods to be explored.
How confident are you that Bangor university degree will help you in taking your career forward?
Bangor University is always trying to improve its international outlook. That makes us students very confident that once we successfully finish our programs and graduate, we will be able to get into the job market wherever we want to fulfil our dreams. The University has a job centre and a series of training workshops to improve your skills to help write your CV and to attend interviews. There are always internships and new opportunities available which helps to increase your chances of finding a position after a short time of entering to the job market. Whether you're interested in working in the academia or the industry, Bangor University will give you the right tools and knowledge to become a successful professional.
What is the highlight/best thing about being a student at Bangor?
The best thing about being a student at Bangor University is that you will have the opportunity to study at one of the best British institutions, in a place full of magic and joy, surrounded by lovely people that will make your experience a fulfilling and rewarding journey through your studies. Furthermore, you will become an outstanding professional whilst engaging in a whole range of activities. These activities will contribute to build you a strong personality and to forge a kind human being who will care about other people and making the world a much better place.
Describe Bangor in three words:
Peaceful, exciting and magical.