Culture Challenge Trip to Barcelona!
On the 10th of December 2016, the International Student Support Office organised the Culture Challenge, an event to promote cultural diversity and unity among Bangor students. On the day, ten teams made up of home and international students went head to head in both a presentation round and a general knowledge quiz to win a trip of a lifetime to Barcelona!
After winning the competition, 'TeamTeam' – a group of 4 Bangor students, have just returned from their adventure abroad. It truly was a great experience for all students and staff! Sanjitha (UK/India), May (Thailand), Norra (Thailand) and Jack (UK) spent 5 days discovering every corner of the Catalan capital and learning about its history, its culture and its language. From Barceloneta beach to the top of Tibidabo mountain, the students were introduced to a city full of life by our international student support staff member, Marcel Clusa, who is actually from Barcelona!
The winning team were very interested in the country's culture and they even learned some Catalan, the local language, and used it to greet people, introduce themselves and order things in shops and restaurants during the whole trip. They visited some of the most well-known spots in the city such as the Sagrada Familia, Park Güell, La Pedrera, the Picasso Museum and the Olympic Stadium, just to name a few. They were also introduced to a local university by a visit to University of Barcelona's oldest building (dating 1873), which opened its gates for the winning team, allowing them to wonder around its beautiful porches and tranquil patios.
Overall, they had 5 days packed with many activities, sunny days and friendly faces; leaving everyone exhausted but at the same time amazed and very happy!
The International Student Support Office would like to thank all the students and judges who made the Culture Challenge possible, allowing the Support Team to keep working to create a more international, open, accepting and multi-cultural University.
To see some pictures of the team's adventures in Barcelona, please click here.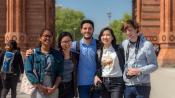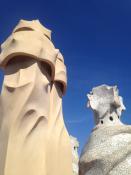 Publication date: 11 April 2017