Culture Challenge Winners Will be Going to China
The annual Culture Challenge student competition took place on 2nd December 2015. The event was organised by the International Student Support Office and saw seven teams of Bangor University students battle each other to win a trip of a lifetime to China. The teams made up of students from different countries were tasked with preparing and delivering presentations on the subject of culture of one or more members of the group. This was followed by a quiz with rounds on Bangor, Wales, UK, China, the world and science.
The idea for this competition originally came from Bangor University's Chinese society, and the International Student Support Office has been running it for the past five years. Teams had to be made up of one Chinese student, one British and two students of other nationalities. The event was supported by Bangor Confucius Institute.
Angharad Thomas, Director of International Development, said:
"The Culture Challenge competition is now in its fifth year and has grown tremendously since its inception. The aim is to promote cultural integration between students from different nationalities and the winning prize of a two-week trip to China has certainly raised a lot of interest. The teams this year consisted of students from eleven different countries, and the presentations they gave on their various cultures were both interesting and fun…they had obviously worked hard. The International Education Centre is happy to continue promoting the competition as it contributes to the student experience agenda, celebrates diversity and promotes integration between our international and home students."
The winners of this year's competition are: Michael Solski (Poland) and Taylor Smith (UK) from the School of Biological Sciences, Hui Zhang (China) from Bangor Business School and Elizabeth Strange (Canada) from Bangor Law School. The students win a 2-week trip around China during the Easter holidays. The teams that came second and third won £400 and £200 worth of Amazon vouchers per team.
Photo credit: Lili Prosenikova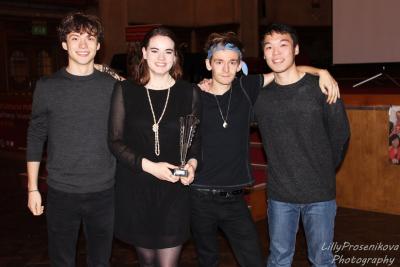 The Winning Team: Michael Solski, Elizabeth Strange, Taylor Smith, Hui Zhang

Publication date: 16 December 2015