International Student Newsletter - April 2017
The highlights of this month's issue include:
- One World Gala 2017
- Internationals Go Green: Beach clean with the North Wales Wildlife Trust
- International Student Ambassador contributes to a historic Varsity win
- Graduate Recruitment Fair in Manchester on 4th May - booking details inside.
- Welsh History Tour on 22nd April – tickets on sale now!
- Last chance to grab a ticket for the Cardiff trip leaving on Monday 3rd April 2017.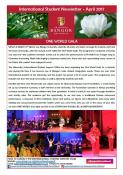 Related documents:
Publication date: 31 March 2017