International Student Newsletter - February 2017
Highlights of this issue include:
- Recruiting performers for the One World Gala (auditions date: 23rd Feb).
- Our International Student Ambassador's Column by Fazeelat Hamid from Pakistan.
- Undeb Bangor Student Opportunities Fair - 11th February.
- Sustainability Lab's Project to plant fruit trees around Campus.
- Full agenda of activities organised for the Chinese New Year.
- Book your earlybird tickets to join us on a trip to Cardiff and discover the Capital of Wales in April!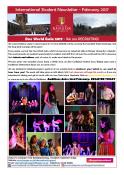 Related documents:
Publication date: 3 February 2017