International Student Newsletter - March 2017
Highlights of this issue include:
- Dydd Gwyl Dewi Hapus! Happy St. David's Day!
- Internationals GO GREEN.
- Our International Student Ambassador's Column by Katie Wood from the UK.
- Undeb Bangor Elections.
- TogetherWe imrove International Exchanges.
- Full agenda of activities organised by international societies.
- Book your tickets to join us on a trip to Cardiff and discover the Capital of Wales in April!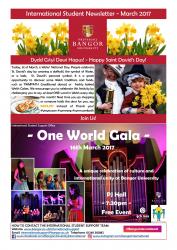 Related documents:
Publication date: 1 March 2017