Internationals Go Green - Beach Clean 2017
Bangor Internationals care about Planet Earth!
45 international Bangor University students got together last Saturday 25th of March to volunteer on a Beach Clean organised by the International Student Support Office in collaboration with the North Wales Wildlife Trust.
Students from all over the World travelled to Newborough Beach and picked all sorts of rubbish found on the beach and sand dunes, from shoes to plastic bags and ear cotton buds. They covered 200m of coastline from the dunes right down to the sea and contributed to the Marine Conservation Society's (MCS) Beachwatch Litter Survey by logging in all the items found. With all the data collected, MCS will create an annual report on litter, with data from beaches around the globe that will help implement future environmental policies.
Apart from volunteering for a cleaner Planet, Bangor University international students got the chance to collaborate with a local organisation and work to help the Welsh local community to get a cleaner environment. Thanks to Dawn Thomas, Living Seas Awareness Officer at the North Wales Wildlife Trust, the students learned a lot about marine biology, about the importance of environmental protection and they even got some tips on how to reduce our impact on the environment and wildlife by simply modifying some of our daily life routines.
It was a truly FANTASTIC day! Diolch yn fawr pawb/Thank you very much to you all for your enthusiasm and commitment with the Environment!
Feeling very proud of Bangor University international students,
THINK GLOBAL - ACT LOCAL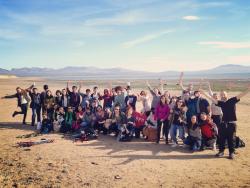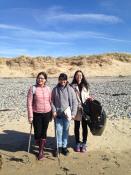 For more photos click here or follow the International Student Suport Office on instagram.
Publication date: 28 March 2017