Students head to the Supreme Court for Bangor University Law School Moot final 2013
The final of the Bangor University Law School Moot Competition has been held at the Supreme Court in London.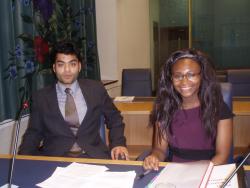 Bangor University Law School Moot Competition winners 2013 - Mohammed Khorasanee and Miriam Mbah
Appellants Miriam Mbah and Mohammed Khorasanee beat Respondents Bronwen Hughes and Catherine Higham in a hard-fought final, which, this year, revolved around the revoked offer of a car for sale and the 'postal rule', to which the US case of Eliason v. Henshaw 4 Wheat 225 was applied.
Last year, Bangor Law School made history when it became the first Welsh university to be invited to moot before the Supreme Court. This year, the finalists had the honour of presenting their arguments to Supreme Court judge Lord Kerr of Tonaghmore, who, along with Mr Hefin Rees, QC of 39 Essex Street Chambers, acted as Moot Court judges.
Although the Appellants were declared the overall winners, both teams were highly commended by Lord Kerr for their research and advocacy skills.
The four finalists were accompanied to London by President of Bangor's Legal Advocacy Society Adam Gulliver, Master of the Moot Aaron Clegg, and lecturers Dr Yvonne McDermott and Mr Gwilym Owen.
"The whole event went very well, and a combination of Lord Kerr and Hefin Rees QC allowed for a unique event where the contestants tested themselves to a very high level", said Aaron, who was responsible for organising the competition. Adam Gulliver, who represented Bangor Law School earlier this year at the Telders International Moot Court Competition, added: "Lord Kerr was an extremely fierce judge. Everyone involved did brilliantly".
Lecturer in Law Yvonne McDermott commented: "Mooting continues to go from strength to strength at Bangor Law School. Our students presented their arguments most skilfully before Lord Kerr, and we are very proud of them".
L-R: Adam Gulliver, Gwilym Owen, Mohammed Khorasanee, Miriam Mbah, Lord Kerr of Tonaghmore, Hefin Rees QC, Catherine Higham, Bronwen Hughes, Dr Yvonne McDermott, Aaron Clegg
Publication date: 19 December 2013