Success for Bangor in national advocacy competition
Bangor Law School has triumphed in the first round of the Blackstone National Criminal Advocacy Competition.
Undergraduate students Leah Jones and Scott Williams faced fierce competition from Manchester Metropolitan University, who had a three-point advantage over Bangor going into the moot thanks to their pre-trial applications.
However, Leah and Scott – the prosecution – fought back with thorough cross-examination and cut-throat questioning of the defence's witnesses to gain an eight point lead and a coveted place in the next round.
This is the first time that Bangor has entered the Blackstone competition, which is the UK's only national undergraduate mock trial contest.
Students are required to prepare pre-trial applications and undertake a series of mock trials, both of which expose them to the vital skills required for a career in advocacy.
For this first round, the competitors were asked to make two pre-trial applicants – one for bail and another for bad character – before proceeding to a full trial, which was held in Bangor's moot courtroom. Presiding over the trial was guest judge Mr Michael Strain, a leading criminal lawyer and Partner at Martin & Strain Solicitors, who was very impressed with the Bangor students' performance.
Scott and Leah, Lead and Junior Council for the Prosecution, respectively, were co-coached by Law School lecturers Stephen Clear and Chaynee Hodgetts. Assisting with the trial were Joshua Nelson as 'the victim'; Bethan Williams, timekeeper; Dushyanth Srinivas as the policeman; and Lludd Ap Iwan as the defendant.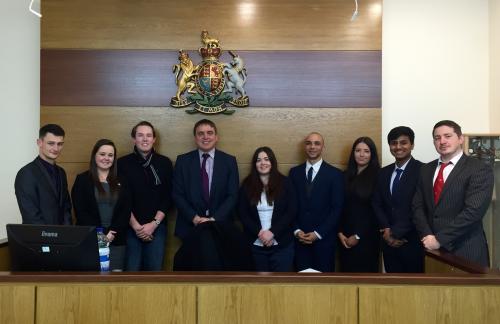 Pictured in Bangor's moot courtroom (L-R): Scott Williams, Leah Jones, Joshua Nelson, Mr Michael Strain, the Manchester Metropolitan team, Bethan Williams, Dushyanth Srinivas, Lludd Ap Iwan.
Publication date: 9 March 2016