Archive of the month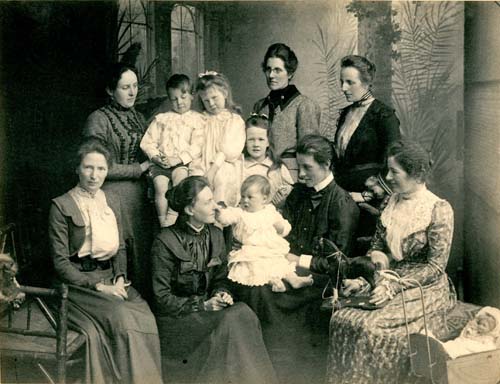 Photo: An unusual informal picture taken of the wives and children of some of the main lecturers of the College c. 1900
Back row: Mrs Mary Reichel (wife of Sir Harry Reichel, Principal); Mrs Kitson (sister of Mary Reichel); Mrs Spencer (wife of Frederic Spencer, Modern Languages)
Middle row: These are thought to be the children of Mr and Mrs Dobbie, namely, Mary, Violet, Alec, Jim
Front row: Mrs Violet Osborn Arnold (wife of Prof. E.V. Arnold, Latin); Mrs Dobbie (wife of Prof. J.J. Dobbie Chemistry and Geology); Mrs Gibson (wife of Prof. J. Gibson, Logic, Philosophy and Political Economy); Mrs Lloyd (wife of Prof. J.E. Lloyd, History)
Later in the history of the College, in the 1930s, a club for women was formed which would become known as the "SRC Wives Club". Amongst other things, they would organise a programme of lectures, dinners and Christmas parties for University staff children. The club was dissolved in 2006.
The Archives are responsible for the care and storage of the early College Records as well as our Archives Collections and General Collection of Bangor Manuscripts. All of these manuscript collections are bound by one common factor, their relevance to the history, people and topography of North Wales. However, their subject areas are wide ranging and are of national as well as local historical interest.
Publication date: 2 May 2013
chat loading...