Archive of the month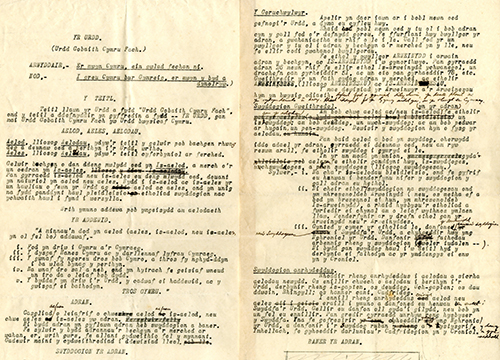 The founding of Urdd Gobaith Cymru
Here is an interesting document that coincides with the largest youth festival in Europe that was held in Bala last month – Eisteddfod yr Urdd.
It is a draft copy of the early plans of Sir Ifan ab Owen Edwards to establish "Urdd Gobaith Cymru Fach" back in 1921. He starts his appeal like this: "The Welsh language today is in more danger…perhaps than it has ever been before. Do the people of Wales realise this?"
Amongst the promises that a member was expected to keep were:
"i. To be faithful to Wales and the Welsh language
ii. To learn about Welsh History and to read Welsh books"
iii. To do my best for every Welshman, and fellow men, no matter what nationality"
As we know, the Urdd today is a flourishing organisation that has contributed greatly towards the language and culture of Wales.
The Archives houses many items relating to the Urdd, including a Programme of the first Urdd Eisteddfod held by the Bangor District in 1930.
All images, photographs and documents appearing on this page are subject to copyright restrictions.
Bangor University Archives are responsible for the care and storage of the early College Records as well as our Archives Collections and General Collection of Bangor Manuscripts. All of these manuscript collections are bound by one common factor, their relevance to the history, people and topography of North Wales. However, their subject areas are wide ranging and are of national as well as local historical interest.
Publication date: 1 June 2014
chat loading...