Archive of the month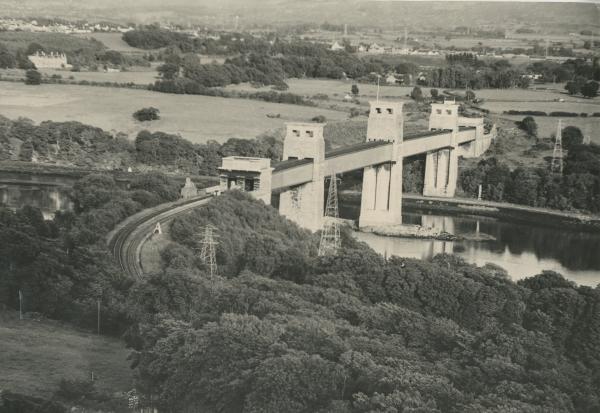 A photograph of Britannia Bridge pre. May 1970.

The bridge was opened on the 5th of March 1850, and built by the engineer Robert Stephenson.

During the evening of the 23rd of May 1970 the bridge was greatly damaged when boys looking for bats inside the bridge accidently dropped a burning torch, setting alight the tar-coated wooden roof of the tubes. The bridge's height, construction and the lack of an adequate water supply meant they were unable to control the fire. After the fire had burned out the bridge was still standing but the structural integrity of the iron tubes had been critically compromised by the intense heat. As a consequence the bridge was completely rebuilt.

The new design was for an arched bridge. Concrete supports were built under the approach spans and steel archways constructed under the long spans either side of the central Britannia Tower. The bridge re-opened to rail on the 30th of January 1972.

The bridge was decorated by four large lions sculpted in limestone by John Thomas, two at either end. The lions cannot be seen from the A55, although they can be seen from trains on the North Wales Coast Line below. The idea of raising them to road level has been suggested from time to time.

In 1980, almost 10 years after the fire, the upper road level opened, carrying a single-carriageway section of the A55 road.

All images, photographs and documents appearing on this page are subject to copyright restrictions.

Bangor University Archives are responsible for the care and storage of the early College Records as well as our Archives Collections and General Collection of Bangor Manuscripts. All of these manuscript collections are bound by one common factor, their relevance to the history, people and topography of North Wales. However, their subject areas are wide ranging and are of national as well as local historical interest.

Visit our website http://www.bangor.ac.uk/archives or our online catalogue http://calmview.bangor.ac.uk/Calmview for further information about our collections.


Publication date: 6 January 2015
chat loading...