Mathew Richards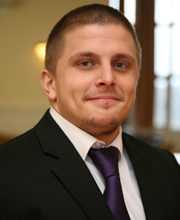 Name

Mathew Richards

Position

Security Officer

Email

Phone

5900

Location

The Management Centre
Profile
Mathew joined the security team at The Management Centre in November 2010, having previously, over the last 2 years, worked as security staff.
Mathew is a keen sportsman, local to the area and is fluent in Welsh and English .

Mathew would like to give you a very warm welcome to The Management Centre and hopes you have a pleasant stay.