Bangor University's School of Medical and Health Sciences has retained Unicef UK Baby Friendly Initiative (BFI) accreditation for their midwifery programme, the only midwifery programme in Wales to hold this accreditation.
The Baby Friendly Initiative supports education around infant feeding and relationship-building between mother and baby, something Sheila Brown, Lead Midwife for Education, and her team at the School of Medical and Health Sciences are passionate about.
Sheila said, "I have been involved for many years with the BFI initiative, first as a midwife and now as an educator. We teach student midwives how to provide care and support that encourages mothers to breast-feed. We also educate them about the benefits of breast-feeding, including reduced childhood illness and illness in later life. There are also health benefits for mums too.
"There is a wealth of clear research evidence that shows the importance of human milk for human babies. It is really important that evidence-based information and support are provided to enable women who choose to breastfeed. For babies who are born pre-term, or are in special care, women need to be supported to express and provide their milk for their babies. In some cases, this can be life-saving."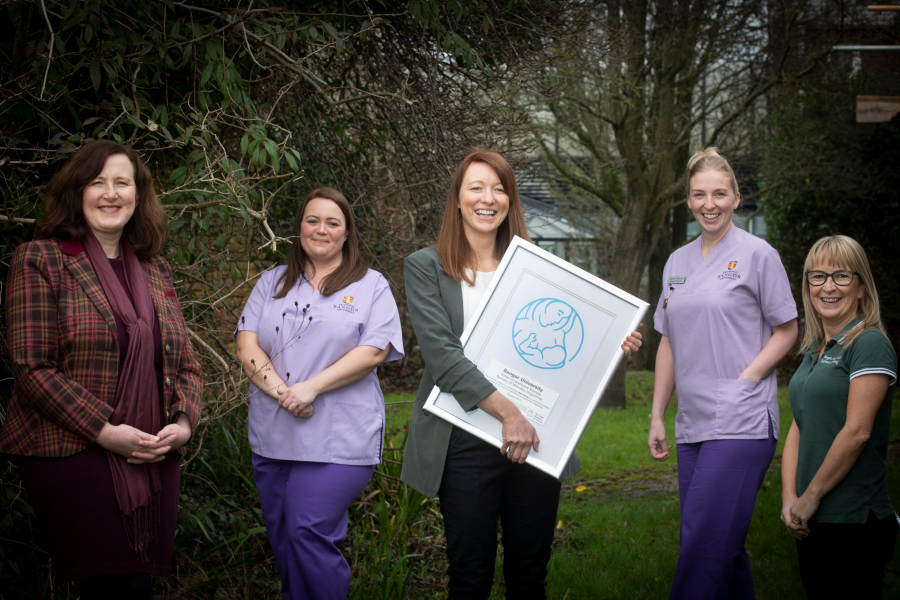 I am absolutely delighted to congratulate the Bangor University midwifery programme on its successful re-accreditation with the UNICEF Baby Friendly Initiative. As the only accredited programme in Wales, it really is the jewel in our crown. The commitment of the education team to ensuring our future midwives have an excellent grounding in infant feeding care is the bedrock of the infant feeding support we provide to mothers and families in North Wales maternity services.
Bangor University has a highly-regarded midwifery programme, including opportunities to study aspects of the programme through the medium of Welsh, with over 100 students currently on the three-year course.
Each year Bangor University receive up to 400 applications for the 30 to 40 places on the midwifery course. For more information about the midwifery programme and entry requirements, click here