Experiencing our Common Humanity
Reflections on Teaching MBSR within a University Setting
By Sue Williams
As I have done for the past 5 years, I taught an 8 week MBSR Course in January – March this year. It seems to me that my experience of teaching that course, and my subsequent reflections on the experience have gathered even more weight and meaning in the light of the terrorist attacks of recent months and the continuing hardening of political rhetoric in public life.
But first a bit of background. I began meditating seriously around 10 years ago; I came in via a meditation course run locally and subsequent involvement in the Awakened Heart Sangha, the Tibetan Buddhist Sangha in Rhoslan. Through the years I have continued to attend regular Meditation days and evening meditation sessions with them. I have known and worked with Jody Mardula off and on for all my working life as a therapist in North Wales. (22 years by now) Jody encouraged my interest In mindfulness and invited me to attend the 2011 Conference run by the CMRP as a guest. I was immediately impressed by the depth of thought, research and practice I encountered and hoped to take my interest further.
Around the same time the team in the Student Counselling Service in Bangor University, where I have worked since 2003, revived a long standing interest in offering mindfulness to students as part of our work. This chimed with my own personal desire to become more involved in mindfulness work. Following this I met with Becca (who I met originally on Bardsey Island –a place important to both our families), and planned out the various steps that would be needed for this to happen. Over a couple of years I attended MBSR as a participant and assisted on an MBSR Course. The Counselling Service was then fortunate to receive funding from the University Alumni Funds for me to attend Teacher Training Retreat 1 at Trigonos in November 2012. Looking back on this process it seemed as if it all fell in to place very easily. It is certainly true that the support and encouragement I received from CMRP was, and continues to be, very important in enabling this provision of mindfulness teaching to the students in the University. It had always struck us, in the Counselling Service, as frustrating that the University possessed such a Centre of excellence in the field of mindfulness but the richness of this resource was not easily available to the students within the institution. Remedying this situation made sense to all of us.
Straight after TTR 1 I started offering a Mindfulness Drop in session for students every week in term time. This consists of some introductory remarks, a 20-25 minute practice and a short period of reflection/enquiry afterwards. I vary the practices taught and often offer a few minutes of explanation on a particular theme. Then in Semester 2 I began offering an MBSR course, open to any student by application. This has remained the pattern of my work over the 5 years since then. Both initiatives have proved popular and successful. There have been 1097 attendances at the Mindfulness Drop in over 5 years. 96 students have completed the MBSR course and 96% of them rated the course as Good or Very Good. The comments on the evaluations have consistently demonstrated that students who completed the course received many significant benefits in both their academic and personal lives. A flavour of this feedback includes the following comments;
'I am sleeping better, performing better academically and have an overall better mood'
'It has given me a completely different outlook on life and the ability to take control'
'I learnt how to look after my mind, which I've never thought about properly. Never realised how important it is to check and look into my mind with care, patience and love'
'I am able to concentrate on my work more, I can pinpoint when and why I am feeling the way I am feeling and I can enjoy the moment and even respect moments which would have caused me unhappiness.'
'I am more mindful of my actions, more aware, less judgemental, more appreciative and take more care of myself'
Turning my attention back to this year's MBSR course……
Over the years it has become clear that the MBSR tends to attract a high number of mature students (around 80% in each group) many of whom are studying on Masters or PhD courses, and a high number of international students (around 40% of each group). This year's course highlighted these trends more strongly and noticeably. Perhaps it was even more noticeable to me given the national and international context of the past year or so. Like many others I have been strongly affected by the Brexit vote, the election of Donald Trump as President of USA, the rise of populist movements and the terrorist attacks and their aftermath within our own country. The national and international mood of fomenting division and hatred between people of different ethnicities, nationalities, backgrounds, social classes and age groups has disturbed and distressed me.
As I began this year's course I was aware that the group encompassed an unusually wide range of people. Ages ranged from 19-65. The participants came from very varied backgrounds including Korea, Ecuador, India, USA, Pakistan, Iraqi Kurdistan, France and Austria; a rich mix of ethnicities, cultures, religious traditions and life experiences. From the earliest sessions it seemed to me that the group formed very quickly; people were open and generous in their sharing with each other. There were many moments to remember; the raisin meditation took us into a rich evocation of a grand-parents dried fruit shop in rural Asia. At other times someone said 'You could be talking about me when you say that' or 'I feel exactly the same as you' in response to another's contribution, but saying this bridging differences in culture, religious formation and age that we are told should divide us.
For myself, as the teacher of the course, I felt privileged to be part of such a rich sharing and learning experience. In the closing session one group member said she had learnt that 'we all have the same difficult human minds'. In the paper evaluation another said that she had appreciated 'making friends from different cultures' and another valued 'sharing with others the human condition'. After the group sharing in the final session I contributed my own thoughts and feelings; I shared that I felt moved by the way mindfulness practice can enable people to come together and unite in a deep experience of our common humanity- not just a theoretical ideal but a lived and felt experience. And that this seems all the more important in the current political context. I was left with a deeper appreciation of the gift of mindfulness and the MBSR course.
A few days after the course ended one of the group members, who had been unable to attend the final session owing to illness sent me her reflection on the course;
'There is a term called "sadqa e jariah" in our religion which refers to a particular kind of good deed, the reward of which is never ending in a way. It's like planting a tree. A tree that gives shade and fruit continuously as long as it exists. Numerous people benefit from it. According to the term, the person who planted the tree is rewarded not only once or twice but in fact every time that tree is a source of food or shelter for someone.
Teaching us this course was similar in regard to planting the tree. It's a tool you gave me and other people in class for our present and future and the possibility to perhaps teach others as well. So, apart from the mindfulness course being offered by the Bangor University, reflecting in more of a spiritual context I can affirmatively say this was "sadqa e jariah." Every time I practice mindfulness, the ways it helps me and others around me, you would be rewarded for that.'
I feel this reflection captures beautifully the way Mindfulness practice can be re-interpreted and understood through the experiences of other cultures and faiths. But also, perhaps more importantly how this deep experience of common humanity can ripple outwards throughout the lives of those who attend.
Sue Williams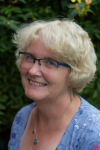 Publication date: 22 August 2017