Bangor student charts Wales' path to European glory
A student at Bangor's School of Creative Studies and Media has been signed up by publishers to write the story of Wales' Euro 2016 campaign.

Jamie Thomas, who is returning to Bangor as an MA student this year, has been with the team for their last two games in Cyprus and Cardiff as they attempt to qualify for next year's football tournament.

As well as writing a book for publishers Y Lolfa, Jamie has also contributed match reports and interviews with coaches and squad members for news website Golwg 360.

Jamie said his degree in Journalism and Media Studies had been a great help in honing the interview and story writing techniques he needed in order to follow the football press pack.

"I had no experience of interviewing people at all before beginning the course at Bangor," Jamie said.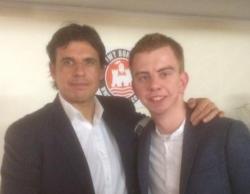 Chris Coleman & Jamie Thomas

"Since then I've interviewed a myriad of international players and managers about a range of different issues related to football.

"Saying that the course at Bangor University has helped me would be a huge understatement. It was critical to my development as a journalist.

"There have also been a few instances where someone at the university has pointed me in the right direction in terms of meeting the right people.

"But at the end of the day it comes back to confidence. It can be difficult without it to approach people, especially when they're famous, and even more so when they sometimes don't want to talk to you!"

Of the latest games he's covered he said:
"It's been great to be a part of the press and media workings that go with following an international football team, especially at such a young age. Going out to Cyprus was a great experience to cover that game for a few media outlets as well as researching for my own project, and them coming back to Cardiff for what we thought would be the game we've all been waiting so long for on Sunday was another amazing experience. It doesn't feel like work, put it that way! I get the same access as anyone else does, it's a great experience to get to sit and listen to and talk to and learn from not just the people on the sporting side of things - players, coaches, whatever - but also the other journalists. Guys like Chris Wathan, Dafydd Pritchard, Phil Blanche, Andrew Gwilym, they're all great to learn from because they've been there and done it in terms of making it in journalism so to be able to spend time with them and observe them has been a great experience."
'Like a dream'

The Journalism course at Bangor University was rated the best in the UK for student satisfaction this year, with a 100% score. The Media provision was also in the top 10 in the United Kingdom.

Jamie Thomas said that the experience of following the Welsh camp had been "like a dream" for him.

"I read a lot of footballing books, and I've always wanted to write my own, but I thought it would take me years to build up the contacts and experience to be able to do it.

"I've been very fortunate thanks to the degree I've completed, my lecturers, and Lolfa, to be given this opportunity.

"It's been great to talk to people like Chris Coleman, Osian Roberts, Raymond Verheijen, Wayne Hennessey, Neil Taylor and many more.

"I can't wait to see how the boys do and hope they reach France. I hope they qualify sooner rather than later!"
Publication date: 2 September 2015