Bangor student's film impresses the BBC
A short documentary by a Bangor film student has been chosen to feature on the BBC website.

School of Creative Studies and Media student Phil Coleman charts his own battle with anxiety in the film Breaking the Cycle.

The video is visible on the Fresh Online website, BBC Three's broadcast scheme for new documentary filmmakers.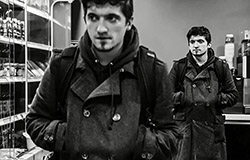 The best of these films will be featured in a compilation programme on BBC Three later on this year.

"I created the film as part of my Masters' Degree in Film-making, and later decided to submit the film to the BBC," said Phil Coleman. "A few weeks later I got a phone call saying that it had been accepted.

"The film was shot in two weeks with equipment loaned from Bangor University. The lecturer Dr Jamie Sherry and the other staff also helped me a lot.

"Having the film up on the BBC website is awesome. Usually I just upload my films to Vimeo and they're only seen by a few people. I've never had this kind of exposure before.

"It will definitely help if I want to submit to a film festival in the future. That's sad perhaps as a film should be judged on its merits – but this does make it much more marketable."

Anxiety

The film was directed and narrated by Phil Coleman, with photography by fellow friends and students Chris Maltby, Samantha Emery, Robert Zyborski, and Ben Walker.

Phil Coleman said he had considered doing a fictional short story, but then decided to create a film about his anxiety attacks and how he copes with them from day to day.

"My hope is that the film will help people going through similar issues," he said. "A lot of people have told me that seeing the film has helped them quite a lot.

"I didn't expect such a response. It's a very difficult subject to talk about – there's no concise way of explaining it, but it's much easier to do that visually in a film.

"I feel I've had a lot of support from family and friends who have now seen the film."
Publication date: 7 February 2014