Tickling the ivories for McDonald's World Cup Campaign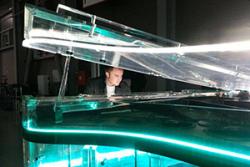 Owain Llwyd playing the 'transparent' piano for the Huaiwei advertisement.A Lecturer in Composition at Bangor University is to be heard on the McDonald's World Cup Web Advertising Campaign which has had over five million views on YouTube alone.
Owain Llwyd, who is a Coleg Cymraeg Cenedlaethol Leturer at the University's School of Music, worked as a session pianist in Air Edel Studio, London for the advertisement.
Through his contacts, Owain got the chance to tinkle the ivories on the track which is a re-recording of 'Oh By Jingo' from the 1940s and was performed live using vintage microphones.
Owain commented:
"It was great fun taking part in the McDonald's recording session, and the advert is a winner! It's also great for me to be able to mix my composing and lecturing and with working with musicians and orchestras in the recording studio as well. As a composer, my main interest is in music for film and television, so these experiences feed into each other, ensuring that I'm composing the kinds of music that people want to hear and sharing this understanding with budding composers and musicians at Bangor University's School of Music."
The advert, which follows a football through Rio De Janeiro, as people of all ages perform amazing tricks and feats with the ball, has a celebratory feel and the music accompaniment is just as jolly.
This is not Owain's first foray into advertisement recording, Owain recently performed piano and 'hand-doubled' for the actor Jan Ctvrtnik in the latest advert for mobile phone manufacturer, Huawei.
For that, Owain spent a week in Prague recording in an aircraft hangar on a 'transparent' piano worth over £100K which came with its own security guard. The music, which was extremely catchy, was composed by the highly successful British composer Tom Player, with whom Owain collaborates with on a regular basis.
Owain also worked with Tom orchestrating the Yazoo hit Only You for a TK Maxx Christmas advertisement.
Owain is composing music for several media projects over the summer, he is directing composition workshops in conjunction with Pontio Arts & innovation centre at Bangor University and orchestrating a musical. He is also orchestrating four songs by Casi Wyn for the BBC National Orchestra of Wales Proms in the Park event , taking place in Singleton Park, Swansea, on the 13th September. The performance will be broadcast live on BBC4 and forms part of the BBCs 'Last Night of the Proms' in the Royal Albert Hall.
Owain has also produced CDs of compositions suitable for use by the media. His work has been broadcasted around the World by 'BBC America,' 'BBC UK,' 'Sky,' 'Channel 4,' 'ITV', 'Fox' on such programmes as 'The X-Factor,' 'Top Gear,' 'US Open,' 'Eurosport' & 'Big Brother' to name but a few.
Owain, who comes originally from Glyndyfrdwy, also graduated and gained his Doctorate from Bangor University Music Department.
Publication date: 7 July 2014