Student Profile: Elizabeth Green – Music Composition for Film and Media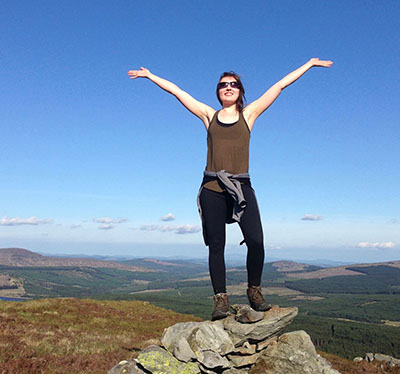 Elizabeth Green
From: USA
The course...
I am studying music, specifically music composition for film and media. I will be in my third year of University.
Why choose Bangor?
I stumbled across Bangor University during a google search for "good music schools in the UK and Europe". After taking a look at the international department page I saw the profile of Dr. Maggie Parke, who, incidentally, happened to be from my home town of Lancaster, PA. I thought it was such a funny coincidence, and after emailing, we settled on a date to discuss the school at the local market in Lancaster while Maggie was home visiting family. I was hooked when I found out where Bangor was located, between the mountains and the sea, and at a good proximity to Dublin, Manchester, and other places in the UK. I also loved the modules that were offered in the School of Music, and that the student to teacher ratio was very small. It seemed like a good University for not only an excellent education in the field that I love, but also a prime place for fantastic adventures.
The International Ambassador Scheme
The International Ambassador Scheme is around to help international students with whatever questions they might have, or anything they could be struggling with in getting used to a new country. As an international student myself, I wanted to get involved to be able to help students adapt and enjoy themselves!
What is the most difficult thing about being an International Student?
Being so far away from my family has been difficult, but the friends you make here become like your family away from family.
The course
The best thing about the music course is that I get to pursue what I love, I love music and composing, and to be in an environment with other students who get the same joy from it is refreshing. There are also so many opportunities within the course to compose for, one example is how involved the BBC NOW is with our department, every year they do workshops for student compositions. The students get to go to Cardiff to hear them workshop the pieces, and it is such a great learning opportunity as well as a great chance to explore Cardiff!
Describe the academic school
The best thing about the course is that the professors are working in the area that they are teaching you about, the professors who teach composing for film and media actually currently compose music for film and tv, and so on. You really get "real world" experience. They are also so down-to-earth and treat the students as equals.
Clubs and Societies
I have been involved with the Mountain Walking Society, acting in BEDS, and volunteering with Pontio.
What social activities do you enjoy?
I enjoy hiking and climbing the mountains in Snowdonia and surrounding area, going on adventures to different cities, and drinking in pubs with friends, the local beer is so good here! :)
What's the best thing about living in Bangor?
The best thing about living in Bangor is how close you are to the mountains and the sea. The local people are genuinely friendly as well.
What will you miss most about Bangor when you leave?
Definitely the mountains!
Has the University been supportive during your time here?
The University is so supportive, the professors really care about you and want you to succeed, as well as enjoy yourself during your studies.
What advice would you give to new students?
Be prepared to be adventurous! There is so much to see and do, take advantage of it!
Plans for the future?
I would love to be a film composer, that's the ultimate dream…after getting my undergraduate degree I plan on doing a masters degree.