Student Profile: Wai Ting Mak – Music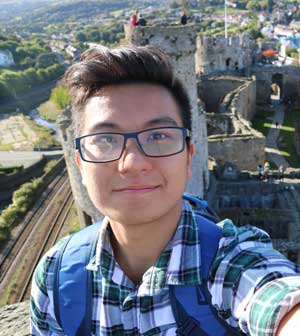 Wai Ting Mak
Wai Ting Mak (also known as James) is from Hong Kong. He is a third year Music student.
Why did you choose Bangor?
I heard about Bangor University when I was searching Universities in UCAS; the reasons why I choose Bangor University are nature surrounding the campus and the well facilities for music students.
The International Ambassador Scheme
As I used to be a fresher sometimes you will feel panic or stress; or panic on speaking English. Therefore, as an International Student Ambassadors, we can provide some useful information about life in the UK and help for settling down. I really want to share my knowledge and experience to international students to let them enjoy University life in Bangor.
The Course
The course is interesting and allows us to be more creative. The lecturers are friendly and nice to students. Also we have sufficient time to have one-to-one meeting with lecturers.
Social Life
I'm involved with men's basketball team, catholic societies and music societies. I also take part in campus sports and volunteering
The best thing about life in Bangor is ...
Beautiful nature and the fact that it's near Snowdonia National Park. The people are kind and peaceful as well.
Support from the University
I have been to sessions for improving my writing skills and also received some warm greetings from tutors and the international ambassadors in my first year.
Advice for new students?
Just relax and don't be shy, people are nice and love to help you out. Don't be afraid to ask for help, I would love to give international students a hand!