Bangor University will be celebrating 100 Years of Music by hosting a series of musical treats to highlight the diversity of sounds over a century. The celebrations will include concerts, performances and masterclasses and pay tribute to the great tradition of music-making at Bangor.
Events will take place not only in the University buildings, including Prichard-Jones Hall, Powis Hall and Pontio, but throughout the city of Bangor in locations such as Storiel and Bangor Cathedral.
The programme will include performances from professional music ensembles, including the BBC National Orchestra of Wales and the Welsh National Opera, who will both include works by composers associated with Bangor in their performances.
There will also be a showcase of talent from Bangor University's Department of Music, Drama and Performance, including concerts from the University Symphony Orchestra and the University Chorus, with music composed between 1921-22 in the repertoire. The University's various musical ensembles, from jazz, wind and brass to vocal ensembles, will include music written by Bangor composers and will also be part of next year's graduation celebrations. Also contributing to the overall programme is the Students' Union, Undeb, and UMCB, will host various musical events involving popular Welsh bands.
Young practitioners from National Theatre Wales, the Royal Shakespeare Company, the West End, Sherman Theatre, Coleg y Drindod and the Orchestra National de Bretagne will present masterclasses for Bangor students and provide opportunities to local schools in partnership with the School of Music's Director of Performance, Iwan Llewelyn Jones.
The Bangor University Symphony Orchestra rehearse at Prichard-Jones Hall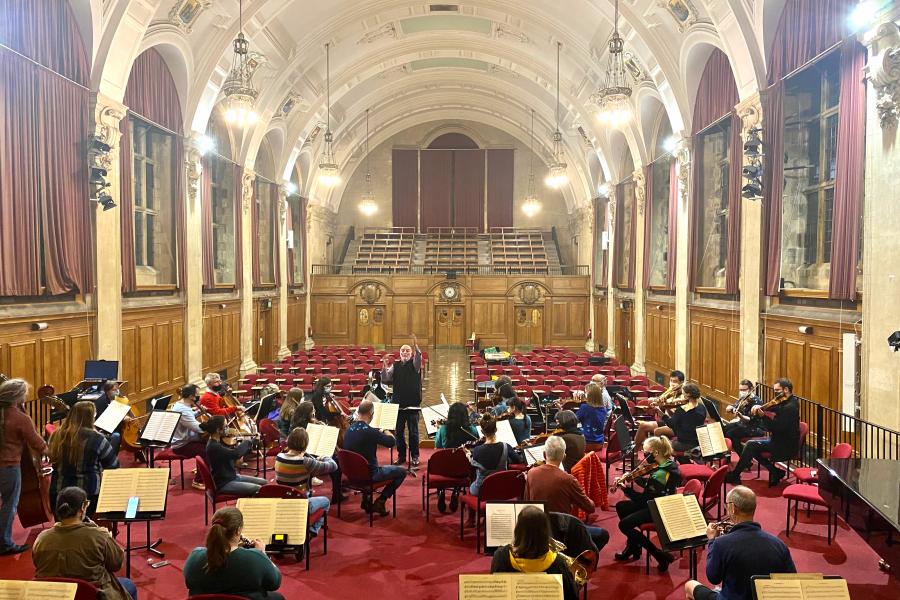 It is now 100 years since ET Davies became the University's first full-time Director of Music. He was very much involved in connecting the University to the wider community through music. We truly see the Music 100 celebrations as an extension of that, and an opportunity for people to reconnect in person, post-pandemic.
Professor Andrew Lewis, Head of the Department of Music, Drama and Performance at Bangor University and a composer himself has been commissioned by the BBC and Ty Cerdd to write a new work for the BBC National Orchestra of Wales. The piece will include recordings of people from Anglesey and St Asaph talking about their role caring for family members who have dementia, and discussing their experiences, feelings, challenges and thoughts about the future.  These conversations will be modified electronically and woven into the orchestral textures to produce a unique electro-acoustic soundscape which will be premiered as part of the BBC National Orchestra of Wales' concert at Pontio in March 2022.
It's a time to celebrate the rich and diverse history of music at Bangor, looking back over a century of musical moments, and then forward to the next 100 years, with some exciting new developments on the horizon.
"Community is at the heart of everything we do, and this is a celebration, not just for the Department of Music, Drama and Performance, but for the whole University, the people of Bangor, North Wales and beyond. We invite you to join us as we celebrate our centenary with a packed calendar of events, which promises something for everyone.
A dedicated website which includes a journey through a century of musical excellence has been created as part of the celebrations - for more information and for details of scheduled events, visit https://www.bangor.ac.uk/music100.
Upcoming events include the Bangor University Symphony Orchestra's performance in Prichard-Jones Hall on Friday 29 October, 7.30pm. Tickets available on the Pontio website http://www.pontio.co.uk.