From Malawi to Bangor: Marshal Papworth scholarship is awarded to an MSc Environmental Forestry student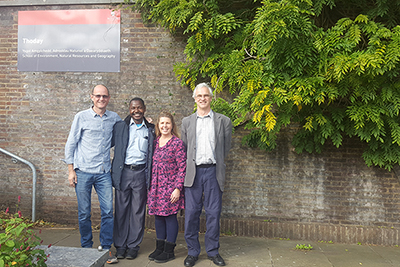 Dr Mark Rayment (lecturer in forestry), Wisdom Nyondoh (Marshal Papworth Fund scholar), Sandra Lauridsen (Marshal Papworth co-ordinator), and Dr Rob Brook (senior lecturer in agriculture and rural development). October 2017 © Genevieve Agaba.Wisdom Nyondoh from Malawi is the latest recipient of a scholarship awarded by the Marshal Papworth Fund. He is enrolled on the MSc Environmental Forestry programme and is already taking modules in Silviculture, Natural Resource Management, Forest Resources and Assessment, and Research Planning and Communication. It's a busy first semester and he's been enjoying getting to know the lecturers and fellow students in the School of Environment, Natural Resources and Geography. As part of the scholarship, the Marshal Papworth Co-ordinator, Sandra Lauridsen, visited Bangor to check how Wisdom is settling in and to discuss the current collaboration with SENRGy lecturers Dr Mark Rayment and Dr Rob Brook.
The Marshal Papworth Fund takes its name from its late founder, a well-respected farmer who played a key role in the agricultural community, as well as being a proactive member of the East of England Agricultural Society.
An adventurous and visionary man, Marshal Papworth travelled extensively to Africa and Asia. It was during these trips that he saw the plight that communities in developing countries faced on a daily basis in sourcing food and safe water. Witnessing these difficulties, Marshal recognised the benefits that such communities could gain from being given the opportunity to embrace sustainable farming practices and learn valuable agricultural and horticultural skills.
Through his generosity, his legacy has been able to live on by way of the Fund by providing scholarship opportunities for students in developing countries.
Marshal's vision was to support students in developing skills they can take back to their home countries and use for the benefit of their own communities. This is very much in line with SENRGy's approach in designing postgraduate programmes that enhance research skills in natural resource management and focus on tropical as well as temperate systems. At any one time, we have students from over 13 countries taking the same MSc programme. Graduates have gone on to have successful careers in government ministries, national and international research and development organisations, and NGOs.
Before Wisdom came to study for an MSc in Environmental Forestry at Bangor University, he attended The Catholic University of Eastern Africa and graduated with a BSc in Sustainable Human Development in 2014. Since then he has been working for an NGO called Kaporo Foundation Commutrust as a project coordinator. His roles and responsibilities are:
· Designing and implementing rural reforestation projects
· Developing project proposals
· Organising environmental conservation workshops
· Mentoring village forest committees
· Engaging students and communities in tree planting
Upon completion of the MSc programme, Wisdom's vision is to continue working with the Malawian government and NGO sector to establish sustainably managed forests within customary owned land, so as to bring forest resources close to the people at village level, while maximizing collective responsibility of the beneficiaries. He's already done a tremendous amount of work in this area and is continually expanding his skillset and knowledge, with the intention of improving current development practices in his home country.
For further information on the Marshal Papworth Fund's scholarships:
http://www.marshalpapworth.com/our-scholarships/universities-colleges/
Publication date: 25 October 2017