St Gerard's School are Top of the Bench!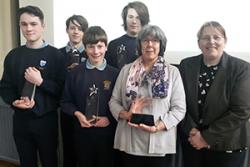 From left: Tomos Laing year 10, Oscar Downing year 9, Gwyn Owens year 10 and Owen Hughes year 11 with their Chemistry Teacher Mrs David and Dr Lorrie MurphyA team from St Gerard's School in Bangor are this year's north Wales heat winners of the Top of the Bench competition run by Bangor University's School of Chemistry.
The National Competition for 14-16 year olds is run by the Royal Society of Chemistry, and heats are held all over the country.
11 teams from local schools competed for a chance to visit the Chemistry Department of Birmingham University for the Final, which will be held on the 3rd March 2018. St Gerard's will be travelling there to compete.
Dr Lorrie Murphy from the School of Chemistry, Bangor said: "We were very impressed with the level of chemistry knowledge shown by all the schools who attended. This year's regional heat was again another close-fought battle with the winning score an impressive 55/70. We wish St Gerard's every success in Birmingham."
Techniquest Wrexham hosted 3 schools, which was done by using Skype sessions for the introduction and finale, whilst the quiz was run in parallel at both sites.
Bangor hosted 8 teams and Techniquest had 3 teams in Wrexham.
Schools who took part were:
Alun School
Ysgol Tryfan
Rydal Penrhos School
Ysgol Dyffryn Conwy
Ysgol David Hughes
St. Gerard's School
Ysgol Eirias
St Davids College
Ysgol Aberconwy
Ruthin School
Oswestry School
For more information on about events for schools at the School of Chemistry, please visit https://www.bangor.ac.uk/chemistry/schools.php.en
Publication date: 26 February 2018