Fieldwork is at the core of teaching and research in environmental sciences however it can be a barrier to some students. Ensuring that teaching and learning, specifically fieldwork, is made accessible to all students including those that may have barriers such as physical difficulties or invisible barriers is hugely important.
A collaboration led by physical geographer Dr Lynda Yorke from Bangor University with Dr Simon M. Hutchinson from the University of Salford and Dr Liz Hurrell from the University of York funded through a UK Research and Innovation (UKRI) - Natural Environment Research Council (NERC) grant, has resulted in a bilingual(English/Welsh) guide '10 ways to make fieldwork more inclusive and accessible: a guide for educator', and website hub to help educators plan and deliver fieldwork teaching that is inclusive and accessible for all students.
"The pandemic showed that the pivot to online teaching and using digital technologies was a game-changer for many who were, or felt, excluded from fieldwork. With Equality, Diversity, and Inclusivity (EDI) policies emerging in education and workplaces, there has never been a better time to address EDI in environmental sciences."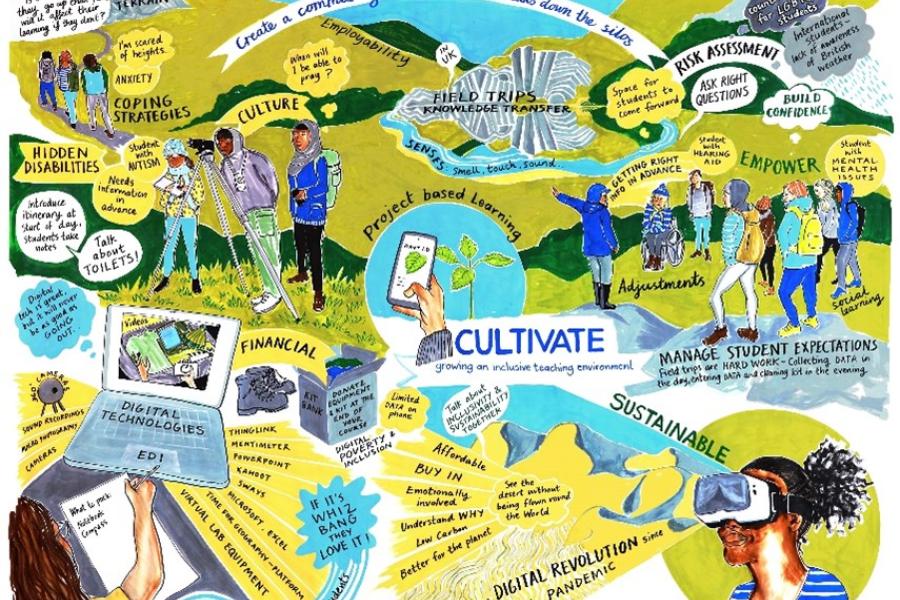 The NERC-funded project brought educators together for a research hackathon (Feb 2022) and workshop (May 2022) to collaborate and discuss how to break down the barriers that many students face in fieldwork.
A key output of the project was the booklet '10 ways to…' which identifies ways to help ensure that field-based teaching is as inclusive and as accessible as reasonably practicable. The guide addresses issues around staff and student well-being, financial costs, religion, gender, accommodation, and field locations. In addition, the website hub focuses more widely on using digital technology to enhance teaching and field work delivery, sharing stories of good practice and advice on how to ensure inclusivity and accessibility for all students, and provides resources to enhance and understand the issues surrounding EDI and field work better.
Dr Liz Hurrell, Co-Investigator, University of York said "Whilst the focus was on undergraduate fieldwork, we see this as applicable to educators everywhere, whether that be at secondary level or researchers planning a field campaign".
Dr Simon M. Hutchinson, Co-Investigator, University of Salford added "We've had some great feedback from the academic community. Everyone knows we need to address inclusion and improve access in our field teaching, but sometimes we just want some simple guidance that can be the starting point to effect change in our own practice."