An Evening with Mark Beaumont
Join the School of Sport, Health and Exercise Sciences in welcoming Mark as he presents film and photography
Location:

Pontio, Lecture Theatre 5

Time:

Wednesday 18 September 2019, 18:30–21:00

Presenter:

School of Sport, Health and Exercise Sciences

More information: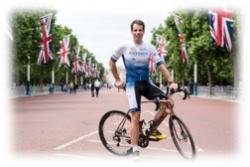 Mark BeaumontMark Beaumont (BEM) is a Perthshire adventurer, author, and documentary maker whose stories from the road and sea are both fascinating and inspiring. His passion for endurance has taken him around the world, from top to bottom and to some of the most unforgiving areas of the globe. Most recently, he has achieved the World Record fastest solo ride for the length of Africa and smashed the circumnavigation cycling World Record twice, holding this 18,000 mile title in a time of just 78 days and 14 hours. Over the past decade Mark's epic documentaries and books have taken viewers and readers to over 100 countries, into the Arctic, the high mountains and around the Commonwealth. Outside of sport and broadcasting, Mark has a wealth of experience as a business ambassador and works with a number of charities and educational organisations. Breaking world records and completing world firsts has always been Mark's hallmark.

Join the School of Sport, Health and Exercise Sciences in welcoming Mark as he presents film and photography, whilst talking openly to offer a fascinating insight into his career as an adventurer, documentary maker, author, and business ambassador.
Venue: Bangor University, Pontio Lecture Theatre 5, Wednesday 18th September 18:30 for a 19:00 start.
Please register here for your FREE tickets to this exciting and inspiring event.
No able to attend the event? Join in by connecting to the event livestream at 18:30.
Funded by the Bangor University ESRC Impact Acceleration Account (IAA).