An Introduction to English Entrance Examinations in China
Location:

Chinese Pavilion, Confucius Institute

Time:

Monday 8 April 2019, 10:00–12:00

Presenter:

Dr. Xiangdong Gu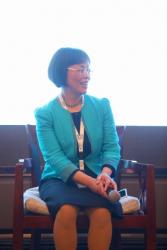 This presentation will cover 40 years of personal reflection and practice of the College Entrance Examinations (generally referred to as GAOKAO) in China. Dr. Xiangdong Gu will give an overview of China's Standards of English Language Ability (CSE), an initiative launched in 2018 under the of the National Education Examinations Authority, Peoples Republic of China to develop a national framework of reference for English language education to provide coherent and consistent learning objectives. This talk will demonstrate and contextualize the huge changes in English language teaching, learning and assessment in China over the last four decades. It should provide an understanding of the role and status of English examinations in the social, economic, political, cultural and educational transitions of China and potential implications for O- and A-level education in the United Kingdom.
Xiangdong's Biography
Dr Xiangdong Gu is a full-time Professor, MA and PhD Supervisor in the English Department of the School of Foreign Languages and Cultures, and the Director of the Research Center of Language, Cognition & Language Application at Chongqing University, China. She has also worked with Cambridge Assessment English, Cambridge University, UK, as an academic consultant since 2012. Her research interests integrate issues in language teaching, learning, assessment and foreign language educational data mining. She is leading a key research project on language assessment 'A Comparative Validation Study of CET, IELTS and TOEFL iBT', funded by the National Philosophy and Social Science Foundation of China. Professor Xiangdong Gu has published numerous journal articles and books and delivered over 200 keynote speeches, talks, seminars and presentations at universities, conferences, institutions and organizations nationally and internationally over the past five years.
Related documents: