Annual Archives & Special Collections Public Lecture
'Miss Marple and the Marquess: piecing together the life of the 5th Marquess of Anglesey'
Location:

Eric Sunderland Lecture Theatre, Main University

Time:

Wednesday 24 October 2018, 17:30
Professor Viv Gardner
The 5th Marquess of Anglesey, Henry Cyril Paget (16 June 1875 – 14 March 1905), was a colourful, flamboyant character who had grown up accustomed to great wealth. He indulged his love for clothes, theatre and dance, and converted the family chapel at Plas Newydd into an ornate, 150 seat theatre, which he named the Gaiety.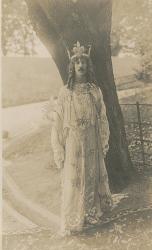 He spent thousands of pounds on jewels, furs, cars, boats, perfumes and potions, toys, medicines, dogs, horses and theatricals – a passion which ultimately led him to bankruptcy. After his death, the Great Anglesey Sale took place, where thousands of lots were sold to recover the debts, from his jewellery collection right down to ping pong balls.
In this lecture Viv Gardner explores the life of Henry, his sexuality, and what went on at Plas Newydd and the neighbourhood during his tenure.
Viv Gardner, Professor Emeritus at the University of Manchester, is a theatre and performance historian, specialising in gender and sexuality – in all its forms – in the late nineteenth and early twentieth centuries.
This lecture will be given in English.