Birds on the move - The influence of environmental change
Location:

Pontio, Bangor

Time:

Monday 14 May 2018, 11:30–17:00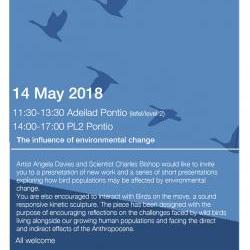 A short symposium is being held on Monday 14th May, at Bangor University, Gwynedd, Wales, on the subject of Birds on the move: the influence of environmental change.
This is the result of a partnership between an artist Angela Davies and a scientist Charles Bishop, with support from the Bangor University Impact Acceleration Account (IAA) funded by the Economic and Social Research Council (ESRC).
There will be a display of a sound responsive kinetic sculpture between 11:30 to 13:30 in Adeilad Pontio level 2, followed by a short symposium with presentation, 14:00 to 17:00 in PL2 Pontio, exploring the idea of birds on the move and how bird population may be affected by environmental change and human behaviour.
Introduction 14:00
Speakers include:
Dr. Charles Bishop (School of Biological Sciences) – 'Flying into thin air'. 14:10
Dr. Rachel Taylor (British Trust for Ornithology) – 'Citizen science and future priorities for BTO'. 14:50
Dr. Ian Hawkins (North Wales Wetlands Site Manager) – 'Responding to climate change predictions on Anglesey'. 13:30
Prof. Guillaume Thierry (School of Psychology) – 'Climate changes – not us'. 16:00