CANCELLED Extreme Past Climates of North Wales, Red Wharf Bay, Anglesey
Geology and natural history walk at Red Wharf Bay, Anglesey
Location:

Meeting point: The Old Boat House, Red Wharf Bay, Anglesey. https://goo.gl/maps/3HmW1NVcVpr

Time:

Sunday 18 March 2018, 14:00–16:30

Presenter:

Professor Colin Jago, Bangor University.

Contact:

01248 382400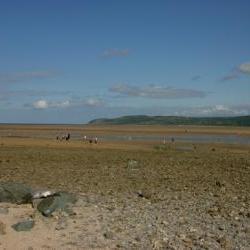 🔹🔹 CANCELLED 🔹🔹
Extreme Past Climates of North Wales, Red Wharf Bay, Anglesey.
Sunday 18th March 1400-1630.
The field excursion to Red Wharf Bay on Anglesey will illustrate two of the very varied climates experienced by North Wales in the geological past. About 350 million years ago, the UK was characterised by shallow, tropical seas with abundant marine life including coral reefs. By contrast, about 20,000 years ago, North Wales was gripped by an Ice Age. The excursion will examine the geological products of these two episodes in geological history and show how the geology provides the evidence for extreme climate changes in the past.
Meet at the car park outside The Old Boat House (close to the Ship Inn) at Red Wharf Bay.
This event is free of charge.
Important information
The excursion will take c. 2.5 hours. It is a pleasant walk over rough ground (no climbing or scrambling) but participants should be suitably equipped (tough footwear, warm clothes, waterproofs) regardless of the weather forecast.
The excursion will start at 14.00h on Sunday 18th March at The old Boat House near the Ship inn, Red Wharf Bay (https://goo.gl/maps/3HmW1NVcVpr) The excursion will be led by Professor Colin Jago, from Bangor University
Children must be accompanied by a responsible adult and supervised at all times,they must also be capable of walking for the duration of the excursion and be appropriately dressed. Well behaved dogs are also very welcome.