Centenary Concert of Remembrance with The Band of the Welsh Guards and the Military Wives Choir from RAF Valley
Location:

Theatr Bryn Terfel

Time:

Friday 13 July 2018, 19:30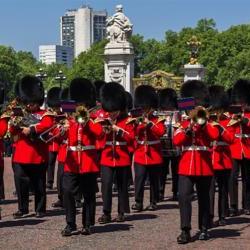 Centenary Concert of Remembrance with The Band of the Welsh Guards and the Military Wives Choir from RAF Valley
A fundraising concert in aid of SSAFA – the Armed Forces Charity.
The Band of the Welsh Guards was founded in 1915, and is the youngest of the fi ve bands in the Foot Guard Regiments in the Household Division which primarily guards the British monarch.
THE ANGLESEY BRANCH OF SSAFA – THE ARMED FORCES CHARITY:
SSAFA provides lifelong support to those who are serving or who have ever served in the British Army, the Royal Navy and the Royal Air Force and their families. SSAFA offers practical, emotional and fi nancial support to meet individual needs through a network of trained volunteers.Support also extends to Merchant Navy personnel and/ or their dependants. To have served and received only one day's pay means a lifetime of support. Anyone who did National Service is also entitled to SSAFA's support as are their dependants.
For further information please contact Mrs Kathryn E Eastment, Honorary Branch Secretary of the Anglesey Branch of SSAFA on 01407 861171 or email: Anglesey@ssafa.org.uk
Friday 13 July
7.30pm
Theatr Bryn Terfel
£16/£14 under 18s