Computer Science Careers EXPO
Where students and employers have the opportunity to develop working relationships
Location:

Pontio, Bangor, Gwynedd, LL57 1UT

Time:

Wednesday 14 March 2018, 14:00–16:00

Presenter:

Dr David Perkins

Contact:

01248 382686

More information: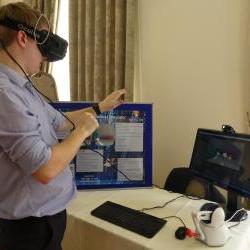 The School of Computer Sciecne at Bangor University are
proud to announce their Final Year Careers Expo. In partnership
with local industry, the Expo will
showcase our final year students' work. The event will be held on
Wednesday 14th March 2018, in the Pontio Building at Bangor University.
The event will bring together final year student and employers, with the
aim of supporting the thriving digital services sector in North Wales.
With several of our industrial partners exhibiting the graduate career
paths and opportunities, the students will gain a valuable insight into
opportunities after graduation.
This year's event builds on a strong history with the Expo growing every
year. The School would like to extend an invitation to the public to
view our students' work on the day. We have limited space for exhibitors,
however if your IT organisation would like to take part, get in touch.
To register: https://www.bangor.ac.uk/cs/expo-register/