Driftwood - Casus Circus
Location:

Theatr Bryn Terfel

Time:

Friday 15 June 2018 – Sunday 17 June 2018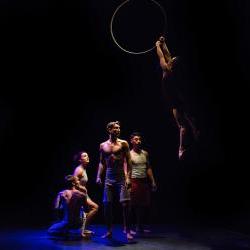 Driftwood
Casus Circus
Only performance in Wales.
In this colourful and turbulent concoction of pure joy and intimacy, watch Casus bring a blank canvas to life and reveal our innate need for human contact. This is a circus show that does not let you forget that to feel is to be human and in a moment of danger, a grasping hold is survival. The unique acrobatic shapes signature to Casus abound in this journey of explosive encounters, hidden looks, and humorous discoveries.
Using traditional and contemporary circus techniques, Driftwood is a spectacular display of choreography, acrobatics, trapeze and aerial stunts. Marvel at the breathtaking skill, strength and bravery of these phenomenal performers who test the limits of the human body, their only performance in Wales.
Australia's hottest young circus company takes this art form to a whole new level.
Suitable for all ages but recommended for Aged 12+
Friday 15 June 7.30pm
Saturday 16 June 7.30pm
Sunday 17 June 2.30pm
Theatr Bryn Terfel
£15/£12 students and under 18s
10% discount for groups of 10 or more