Jack and the Beanstalk
Teulu Pontio Family
Location:

Pontio: Stiwdio | Studio

Time:

Saturday 13 April 2019, 13:30

Contact:

01248 38 28 28

More information: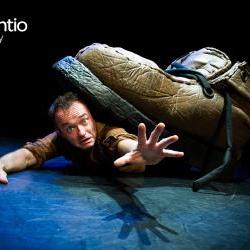 Fee Fi Fo Fum! Mae'n gawr o sioe, byddem wrth ein bodd pe baech chi'n dod!
Y stori dylwyth teg enwog hon sydd wedi cael ei haddasu gan Lyngo y tro yma, felly disgwyliwch bob math o syrpreisys a delweddau hyfryd wrth i Patrick Lynch (o Cbeebies) adrodd stori ryfeddol Jack sy'n gwerthu ei fuwch am 5 o ffa hud a chanfod ei hun yn y wlad ledrithiol uwchlaw'r cymylau. Mae'n sioe i rai dros 3 oed (a'u cewri) ac mae rhywbeth i bawb ynddi - esgidiau enfawr, tai bach bach, cawodydd o arian ac aur a ffrwydrad ddeiliog anferth.
Canllaw oed: 3+
Sioe yn yr iaith Saesneg
Fee Fi Fo Fum! It's a giant of a show, we'd love you to come!
This classic fairytale now gets the Lyngo treatment so expect lots of surprises and beautiful images as Patrick Lynch (from Cbeebies) tells the gripping story of Jack who sells his cow for 5 magic beans and finds himself in the land above the clouds. It's a show for the over 3's (and their giants) with something for everyone – enormous shoes, tiny houses, showers of silver and gold and a big, leafy explosion!
Age guidance: 3+
English language production