Lovecraft (Not the Sexshop in Cardiff)
Location:

Pontio: Stiwdio | Studio

Time:

Tuesday 7 May 2019, 19:30

Contact:

01248 38 28 28

More information: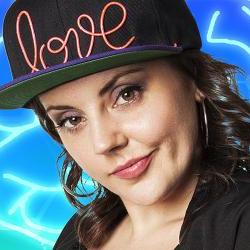 Sioe gwyddoniaeth-comedicerddoriath- un-fenyw.
Wedi'i chreu gan actores a chantores Gymraeg, Carys Eleri, mae Lovecraft (Not the Sex Shop in Cardiff) yn dod i Pontio yn syth o'r Adelaide Fringe Festival. Sioe uffernol o onest a doniol am niwrowyddoniaeth cariad ac unigrwydd. Trwy dynnu ar ei phrofiadau personol, mae Carys yn cyfuno caneuon clyfar a gwirion (The Love Monger, Space and Time, Tit Montage) gyda straeon o'r galon am yr elfennau da, drwg a dryslyd mewn perthynaes. Wrth ymchwilio i wyddoniaeth hormonau a pham y mae cariad wir i gyd am yr ymennydd, darganfyddwch sut mae cariad yn gweithio, pam bod e'n gwneud ni mor wallgof a pham mai cwtsho yw'r ateb.
16+ dylech ddisgwyl cynnwys sy'n addas i oedolion.
A one-woman-sciencecomedy- music-show.
Coming to you direct from Adelaide Fringe Festival, the award-winning Lovecraft (Not the Sex Shop in Cardiff) by Welsh actress and singer Carys Eleri is a brutally honest and witty show about the neuroscience of love and loneliness. Drawing from her own experiences, Carys combines smart and ludicrously funny songs (The Love Monger, Space and Time, Tit Montage) with heartfelt tales of relationships highs, lows and the downright confusing. Examining the science of hormones and why love is really all about the brain, discover how love works, why it makes us do crazy things and why hugging is the answer. Vivacious, hilarious, and talented, BAFTA Cymru nominee Carys brings her much-loved Welsh charm (and oxytocin) to Bangor in May.
16+ expect adult content
£12/£10 gostyngiadau/concessions