Moonfall - Hikapee Theatre
Location:

Studio

Time:

Saturday 2 June 2018, 14:30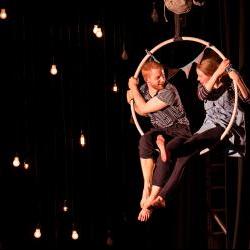 Moonfall
Hikapee Theatre
Join a princess like no other as she embarks on the biggest journey of her life – to the Moon! With two performers and many more characters, this brilliantly comical story-telling performance explores the role of gender stereotypes within children's theatre, using a rope, a hoop and bags of imagination.
Moonfall is a 45-minute two-hander using aerial circus, physical comedy and magical story telling, to bring to life this original story of a princess and the moon.
Moonfall has been created by Hikapee, with support from Arts Council England, Theatre Delicatessen, Jacksons Lane, SeaChange Arts and Circus Futures.
Moonfall is a completely non-verbal production, with the narrative told through physical performance and an original soundtrack. A magical, playful and charmingly entertaining circus theatre show suitable for families and children aged 4+
Saturday 2 June
2.30pm & 4pm
Studio
£6/£20 family and friends ticket (up to 4 people, at least one under 18)