PGR Event- A showcase of BU Postgraduate Research
Location:

Pontio, PL2

Time:

Wednesday 11 December 2019, 14:00–16:00

Presenter:

Doctoral School

Contact:

01248 382357
An opportunity to listen to some interesting talks, present your research through posters, and have a bite to eat and meet your fellow Postgraduate Researchers.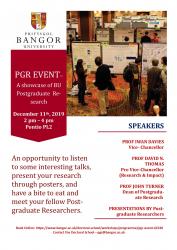 Programme Outline
2 pm -Opening of the Event- Prof Iwan Davies (Vice- Chancellor)
Talks

Prof David N. Thomas(Pro Vice-Chancellor) on Research
Prof John Turner(Dean of Postgraduate Research) on the Doctoral School

2.15 pm Presentation by Postgraduate Researcher

Will Perry

(Natural Sciences ): 'Sexy salmon: the implications of sexual selection and aquaculture on secondary sexual characters in Atlantic salmon (Salmo salar)
2.35 pm -3.00 pm Tea & Cake / Poster Display & Networking

3.05 pm Presentation by Postgraduate Researcher Sara Borda-Green (Arts, Humanities & Business) : 'The Uses of Patagonia. Territory, People and Representation in Welsh and English'.
3.25 pm Presentation by Postgraduate Researcher Kohinoor Darda

(Human Sciences) : 'The Imitation Game: Neural Mechanisms and Individual Differences'
3.45 pm

Presentation by Postgraduate Researcher Sandy Perez- Robles

(Arts, Humanities & Business) : Insurers' credit ratings: What are they and why do they matter?

4.05 pm Closing Remarks- Prof John Turner(Dean of Postgraduate Research)

4.00 pm - 4.15 pm Poster Display & Networking