Public lecture: The Quest for the Holistic Grail of Sustainable Intensification
Prof. Agustin del Prado, Basque Centre for Climate Change
Location:

PONTIO Arts Centre, Bangor, LL57 2TQ

Time:

Wednesday 11 July 2018, 17:00–18:30

Presenter:

Prof. Agustin del Prado

Contact:

01248388609

More information: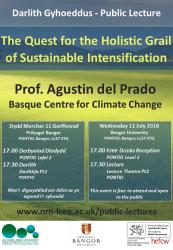 This lecture is now finished, you can watch a recording here.
Sustainable intensification is based upon 3 fundamental assumptions: 1) More food to feed a growing and richer population; 2) the arable land base cannot be expanded and 3) agricultural production must become more sustainable and resource-efficient. One way to achieve intensification in ruminant-based livestock systems is, for example, through having more efficient animals, e.g. by improving feed, housing and selective breeding. Many propose this also as a way to achieve sustainability. Can this be true at all different levels, from the animal, to the farm and regionally?
In this lecture, Professor Agustin del Prado will provide some examples of the issues surrounding sustainable intensification. The examples illustrate conflicting outcomes of following different strategies towards sustainable intensification in ruminant-based systems.
When: Wednesday 11 July 2018, 17.00-18.30
Where: PONTIO Arts Centre, Bangor, LL57 2TQ
17.00-17.30 Free drinks reception, PONTIO Level 2
17.30-18.30 Public Lecture: Lecture Theatre PL2, PONTIO Level 2
This lecture is free to attend and open to the public. There is no need to book a seat.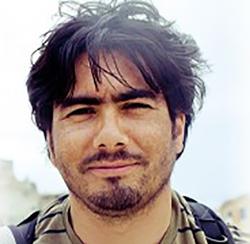 Professor Agustin del Prado currently leads a modelling team at the Basque Centre For Climate Change (BC3). His main area of expertise is the development and programming of mathematical simulation models to assess sustainability of agriculture (livestock in particular) at different scales. His best example has been the farm model SIMSDAIRY, which integrates multiple aspects of cattle farming (e.g. environment, economics, soil quality, animal welfare, biodiversity and product quality) into a systems approach capturing the key factors, processes and their interactions that affect farm sustainability. Additionally, he is also an International Panel for Climate Change Lead Author for the 2019 Refinement IPCC Guidelines for National GHG Inventories in the soil and livestock sections. He is responsible for initiating and promoting the Spanish scientific network REMEDIA, on climate change mitigation from agriculture, livestock and forestry sectors.