Public Lecture: The role of sea foods in reversing the global crisis in mental ill-health
Prof. Michael Crawford, Imperial College London
Location:

PONTIO Arts Centre, Lecture Theatre Level 5, Bangor LL57 2TQ

Time:

Tuesday 12 September 2017, 17:00–18:30

Presenter:

Prof. Michael Crawford

Contact:

01248388609

More information:
This lecture has now finished, you can watch a recording of the lecture here.
We are delighted to host this lecture by Professor Crawford, an internationally renowned researcher in nutrition and brain development.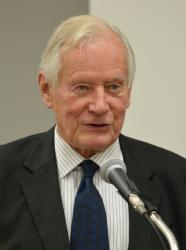 Prof. Michael Crawford gained his PhD at the Royal Post Graduate Medical School, Hammersmith Hospital, where he uncovered the genetic cause of Hartnup Disease. In 1960 he moved to Makerere Medical College, Uganda, where he investigated nutrition in tropical heart disease and cancer in East Africa, and described the background causes for several diseases and conditions. In 1965 he returned to the UK as head of Biochemistry at the Nuffield Institute of Comparative Medicine. His work contributed to major breakthroughs in understanding brain growth and the evolution of the human brain, and predicted the present rise in mental ill-health.
He founded the Institute of Brain Chemistry and Human Nutrition (IBCHN) and the Mother and Child Foundation (MCF) to improve understanding of neuro-developmental disorders and enhance maternal and infant health. As an advisor to the Research Council of the Government of Oman he has recommended marine agriculture and agro-forestry in the coastal desert to tackle diabetes II, mental ill-health and dementia with nutritional forces.
He has been a consultant to WHO and FAO and has been honoured internationally for his work, including the International Prize for Modern Nutrition (1995), elected Brain of the Year by the Brain Trust (2013), the Chevreul Medal for lipid science in Paris and the Order of the Rising Sun by the Emperor of Japan for his contribution to culture and science (2015), and the Alexander Distinguished Scientist, Life Time Achievement Award (2016).
Where & When
Tuesday 12 September 2017
PONTIO Arts Centre, Bangor, LL57 2TQ
17.00 Free Drinks Reception, PONTIO level 5
17.30 Lecture, Lecture Theatre Level 5, PONTIO
The lecture and reception are open to both members of the public and delegates of the conference. There is no need to reserve a space.