Shakespeare's Globe - The Merchant of Venice, The Taming of the Shrew & Twelfth Night
Location:

Theatr Bryn Terfel

Time:

Thursday 7 June 2018 – Saturday 9 June 2018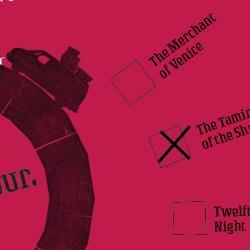 Shakespeare's Globe
The Merchant of Venice
The Taming of the Shrew
Twelfth Night
How did a company tour in Shakespeare's day? We know that when the theatres closed, a small group of actors, juggling a variety of roles in three or four plays from their extensive repertoire, would leave London and head off on tour. We also know that the choice of play or entertainment was left to the most powerful person of the household.
So following in the tradition of our resident playwright, and in a first for Shakespeare's Globe, between May and August 2018, a company of 8 actors will offer audiences a choice of three plays: The Merchant of Venice, The Taming of the Shrew and Twelfth Night. They will perform all three at the Globe before setting out on a national and international tour.
Join us here at Pontio as Shakespeare's Globe on Tour perform their only dates in Wales. Never afraid of a challenge, we'll set about transforming Theatr Bryn Terfel to offer that 'Globe' experience, with standing positions available as well as seats.
In keeping with tradition - and with thrilling unpredictability - the choice of play will be put back into the hands of the most powerful members of the house: the audience.
'Thy frank election make'
(All's Well That Ends Well, Act 2 Scene 3)0
Thursday 7 June, 7.30pm
Friday 8 June, 1pm (primarily for schools: Twelfth Night)
Friday 8 June, 7.30pm
Saturday 9 June, 7.30pm
Theatr Bryn Terfel
£18-£6.50