The Upside-down World - BLAS bach Pontio
Location:

Theatr Bryn Terfel

Time:

Friday 25 May 2018, 19:00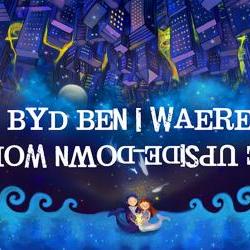 BLAS bach Pontio presents
The Upside-down World
BLAS' two younger group, Class Year 3 and 4 and Year 5 and 6 have teamed up to create their own devised show.
They have been working very hard with ideas and playing with different characters and have come up with a story that might turn your world 'Upside-down'. As the characters live their grey and dull lives, they dream of escaping to a fantasy. Sometimes, dreams come true.
As this is a devised piece, things might change and evolve as we continue to create the show.
Friday 25 May
7pm
Theatr Bryn Terfel
£6/£3 under 18s