Internationalisation Award for Manuela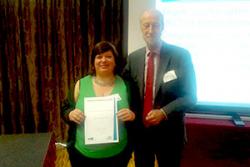 Manuela with Dominic Scott, UKCISA Chief ExecutiveA dedicated member of staff from Bangor University's International Education Centre received an award at an Internationalisation Awards ceremony recently.
Manuela Vittori, International Student Support Officer, came third in the NUS/UK Council for International Student Affairs Internationalisation Awards which took place at the Warwick Integration Summit. The awards aimed to recognise the hard work that student unions, institutions, officers and students put in to supporting international students and improving their experience.
Manuela, who has worked at the IEC for four years, said: "I'm very happy and proud to have been given this award, representing Bangor and Wales at this prestigious event. I would like to thank all of my colleagues at the International Education Centre who also work very hard to support our International students, making their student experience an unforgettable one. With world class teaching, beautiful scenery and outstanding support services Bangor is a great place to work and study."
Alan Edwards, Head of International Student Support, said: "We're extremely happy at the IEC that Manuela was shortlisted and then received an award. Bangor was the only Welsh University to be shortlisted and it recognises the good work that Manuela and her colleagues at the International Student Support Office do in helping and supporting international students to settle in to life in a new country."
Publication date: 14 May 2014