Leah wins top prize
When Leah Jones from Rhyl, stumbled across the website of the UK Poetry Library she realised it was the perfect opportunity to submit a poem which she was particularly proud of.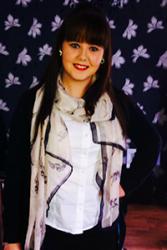 "I read the poem out to family and friends and they thought it was really good, so finding the website was like fate," said Leah, a first year student at Bangor University.
Leah was chosen as winner of the UK Poetry Library's Rhyming Verse Competition from among hundreds who had sent in poems from across the UK and abroad.
Leah's winning poem was inspired by the stress she was suffering during her A-Level exams, which she took at Ysgol Glan Clwyd.
"I told my English teacher about my feelings and she suggested I write poetry to help me deal with it," explained Leah (19).
"As well as the inspiration I got from my mum and dad in encouraging me to write, I also have my English teacher, Melanie Henderson to thank for this."
Leah is now in her first year, studying Law and Criminology and has her sights set on becoming a Barrister. She spends a lot of her free time socialising and contributing to the Law School 'Mooting' competitions for Law Students and to the 'Street Law Society', which offers advice and assistance with legal matters to the public.
When she does have free time, Leah will still turn to her creative side and consider topics that she can discuss in her poetry.
She says: "Writing poetry has become a really useful stress release technique of mine."
Leah originally wanted to study at Cardiff University but having attended an Open day with her mother, and seen the presentations about the courses and the fresher's Week activities, she was quite excited and turned to her mother and said that Bangor was now her first choice of University.
"I now couldn't imagine having studied anywhere else I absolutely adore Bangor," she said.
Leah wins ten copies of the resultant book with her poem She's Here in it. Leah's winning poem is below.
SHE'S HERE
I see her there,
This fear I cannot bare.
She's watching me,
How did this come to be?
Countless sleepless nights,
Of bats, shadows and heights.
With her pale skin,
I see her creeping in.
In my head and my mind,
Anger and fear intertwined.
Re-occurring dreams,
Of crying and deadly screams.
Escape this, I cannot,
She won't cease until I'm caught.
I try to run, try to flee,
I won't let her capture me.
The alarm clock sounds,
But to my dream I am bound.
I awake with fright
And wait for the re-occurring dream at night.
The UK Poetry Library wants entries for this year's competition, so all you have to do is email info@poetrylibrary.co or post your entry to The UK Poetry Library, PO Box 65, Manchester, M46 6AN.
Publication date: 23 April 2014