M-SParc goes 'on tour'
M-SParc, a Bangor University owned Science Park, was established to create well paid careers in the region, in the science and technology sectors. The sort of careers you don't expect to find in Anglesey, Gwynedd and Conwy, paying well and offering opportunities to develop. A year and a half since opening its doors, the company has progressed so much, they're going on tour!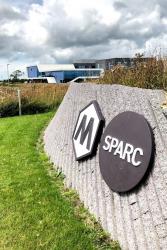 So how do you take a building on tour? Managing Director Pryderi ap Rhisiart explains "Since March 1st 2018, when the building opened, M-SParc has worked hard to fill the Park with the 30 tenant companies who are now based here, and is at 75% occupancy.
In that time, we've been able to help bring 40 new careers to the region through ourselves and our tenants that otherwise wouldn't have been possible. We've also provided 14 student placements for Bangor University students with ourselves and our tenant companies, in order to help new graduates, become more employable, with more in the pipeline. Tenants have given a work-while-you-study opportunity to one Masters and one PhD student, and we've provided work for an apprentice who was at risk of being unemployed. We've also held over 20 large conference with attendees from academia through to industry, and 15 events for children to inspire children about science and technology.
Of the 14 student placements Mr ap Rhisiart mentioned, 4 have been offered full time employment with the company they placed at. One of these was M-SParc's Internet of Things intern, who is currently helping develop cutting-edge technology solutions for the agriculture sector.
"We feel we're certainly meeting our remit of stimulating the economy of Gwynedd, Anglesey and Conwy. This isn't happening because we have an award-winning building people want to come to! This is down to dedicated work by our team who really want to see every tenant succeed, and to make every event a success. It's down to our tenants, who work hard on new and innovative ideas every day in order to grow their companies and add value and career opportunities to the region. It's down to Bangor University, who make sure their students are all aware and taking advantage of the opportunities right on their doorstep, and that our business benefits from this."
Ben Scholes, CEO of Papertrail, who became and M-SParc tenant last year, said "The benefit we get from M-SParc is that the people who run the Science Park have the right sort of growth mindset that you need when you're building a business that never existed before." For M-SParc, the effort they put in to helping tenants grow is paid off when these tenants start providing careers for the region.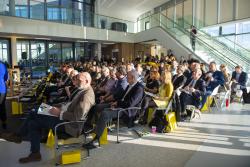 A well attended M-SParc event.M-SParc are passionate about ensuring they create a real impact, and that the three counties all feel they are truly benefiting from having a Science Park in the region. It's not just about having a physical space people can come to; it's about the sort of people that flock to the space to work together on ideas, and about being a driving force to ensure something positive is taking place. The compay wants to inspire young people to think about the region with hope, to feel proud of where they live and to know that there are opportunities here for them as they get older.
To strengthen this statement, a year long project is taking place, as M-SParc goes On Tour. The Tour will start in Bethesda on the 1st of November, in the shared space of Partneriaeth Ogwen on the high street, and after three months will move to a location in Conwy. This is a fantastic opportunity to speak to new communities of people, work with existing schemes and see where M-SParc can add value, in particular by making the most of links to academic research and skilled graduates through Bangor University.
Meleri Davies, Partneriaeth Ogwen Manager, said "We as a Partnership work for the benefit of the economy, environment, and communities of Dyffryn Ogwen. We have taken part in M-SParc events in the past, speaking at EGNI2018, and we know they share many of our values in terms of having an energy and low carbon focus, wanting to work with communities, and really hoping to provide something positive for people. It's going to be an exciting three months, which hopefully will leave us with a legacy. The more people that come in to use our shared space, the better, and we're pleased to work with M-SParc on this."
M-SParc are keen to ensure the partnership is effective, wherever the tour takes them. It's not about crashing in with bells and whistles, only to leave three months later to try and do it all again. The intention is to have an impact on the communities they visit where a real entrepreneurial and community-focused business mindset is created.
Sofie Roberts, M-SParc 'Tour Manager', noted "The maker-space, which we'll take on the tour with us will, hopefully, inspire people to think more creatively about their business ideas. What often happens after projects like this is that the community steps in, working together to keep up the momentum the projects started. We've heard of people buying equipment and creating their own maker spaces, for example, after seeing what's possible."
Part of the project involves the Ffiws maker-space, an Arfor funded project. Cllr Gareth Thomas, Gwynedd Council, noted "The ARFOR Programme is an existing project for Gwynedd, piloting innovative projects to develop the local economy and promote the Welsh Language. Ffiws will be an opportunity to take new technology to a variety of location, developing new ideas."
People will be able to use the space to work at a desk using free wi-fi, attend any of the several business events that will be taking place, from drop-in advice clinics to science experiments for children, and of course to create prototypes and test projects in the Ffiws makerspace.
The intention of creating a science park and stimulating the knowledge economy may sound like blue sky thinking, but on a human level M-SParc wants to bring hope to the region, igniting ambition and proving a driving force for positive change and development. The team are truly passionate about ensuring careers are available, and that young people can look proudly at the region where they are growing up, and feel there is something to keep them here in the future.
Publication date: 21 October 2019