Students organise Wales and War 1914-2014 Conference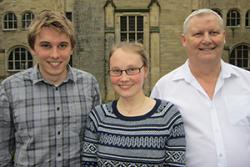 Student Conference Organisers (L-r) Peter Davies Anna Olsson Rost and Martin Hanks.Three postgraduate students at Bangor University's School of History, Welsh History and Archaeology are today (8 April 2014) hosting a Conference that will provide new insights on Wales during and since the First World War.
The event, organised by Anna Olsson Rost, Peter Davies and Martin Hanks, is bringing together both established academics and postgraduate students to shed light on new and exciting research on the Welsh experience of war to a wider audience.
Peter Davies, from Bangor explained:
"We were keen to put together a conference exploring the impact of war on Welsh life since 1914. The centenary of the outbreak of the First World War offered a timely opportunity to examine this theme. War has played an essential role in the construction and representation of a 'British' national identity. The aim of the Conference is to explore the Welsh experience and to consider the extent to which the conflicts of the past century have shaped Welsh life, politics, identity and culture. "
Anna Olsson Rost, a student from Llanberis added:
"This was a great opportunity for us to expand our knowledge and learn more about the current research in this field. It was also a good way of gaining experience of organising and hosting an academic conference. We hope we've put together a conference that appeals to a wide audience and which also provides a friendly and supportive atmosphere for speakers from various backgrounds and experiences to present their research."
Martin Hanks, who lives Penmanmawr said:
"We've been excited about the response we've received and particularly pleased about the range of topics and fields covered by the contributors." Martin will be presenting his own research on the Undeb Cymru Fydd and the Defence of Welsh Culture Committee in the Second World War
The day opens with an introductory 'scene-setting' presentation on 'War, Society and Wales' after which the focus moves to impact of the First World War on Wales including a new analysis of conscientious objection to the Great War in Wales and the response of the State to the growth of the Welsh anti-war movement. Nia Powell, a lecturer at Bangor University explores the fascinating role played Welshmen in the early Secret Service. This is followed by an insightful account of the scars of war on socialism in Wales.
Attention then turns to local history with presentations on current research on the children of Anglesey during the Great War, letters home sent by Anglesey resident Hughie Griffith, which reflect his experiences during the First World War and a unique and fascinating angle on the First World War, from Dr Michael Roberts from the School of Ocean Science at Bangor, showing how sonar surveys of ship wrecks on the ocean floor around the Welsh coast can be applied to World War One marine archaeology.


Publication date: 8 April 2014