Young carers get a taste for University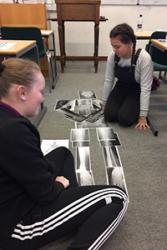 Bryana Donachie and Jessica Hartshorne, both of Rhyl, completing a human skeleton using x- ray images.Young carers from across north Wales were recently invited to Bangor University to sample university life.
Twenty-seven young people, aged between 15- 20, enjoyed the first residential taster experience in north Wales which has been specifically designed for them. This was a partnership between Bangor University's Widening Access Centre, the Carers Trust Wales and Action for Children.
The young people were from Ynys Môn & Gwynedd young carers projects, an Action for Children service that supports young carers aged 5 – 18 years. The projects raise awareness, identify and provide direct support to children and young people who look after or help to look after someone in their family who is unwell or has disabilities, including children caring for parents who have mental health or substance misuse problems.
Delyth Murphy, Director of the Widening Access Centre at Bangor University explained:
"One of the aims of this first residential session was to work with the carers to see how the University can work to reduce the barriers for them to follow a higher education course. The young people had a taste of different activities, academic sessions, a tour of the University and an opportunity to socialise. They also had opportunity to discuss what financial and work- experience support and opportunities would be available to them."
Maria Bulkeley, Action for Children's Team Leader for Ynys Mon & Gwynedd Young Carers, said:
"This was an invaluable opportunity for our young carers to consider a path they may have thought was closed for them. There are many young people in north Wales who care for someone at home and they face barriers other young people don't and can feel higher education opportunities are not possible for them due to their caring responsibilities.
"To actually stay at Bangor University, meet students and understand the pastoral and financial support available if they pursued a course there had a tremendous impact on our young people. This is a brilliant initiative."
Elizabeth Taylor, Carers Trust Wales Education Officer said:
"Our Time to be Heard project emphasises the barriers that carers are facing in education, specifically higher education, where non-completion of degrees due to family caring responsibilities can be a big problem. Getting to university is hard for everyone, but for young carers it's even harder. Bangor University have been completely dedicated to carers and have shown us how much it means to them to support carers, and we at Carers Trust Wales couldn't be happier about that."
Ceinwen Jones of Dinorwig said:
"It was really fun and I got to meet a lot of people going through the same thing as me so it was really comfortable, and I got to learn about what I want to do in the future about university."
Jessica Hartshorne of Rhyl said:
"I realise lot more support and funding available for young carers than I did before I came."
Publication date: 25 April 2017