Young people get a taste of University life
YOUTH Club members from across North West Wales have been finding out more about higher Education over the past months.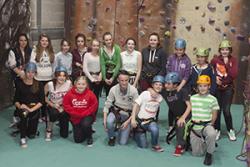 Members of Talysarn Youth Club, having tried out the climbing wall at the University's Sports Centre recently.Several youth clubs in Gwynedd and Ynys Mon have been part of a new University initiative to give even more young people an insight into university life. The young people – ranging in age from 12 to 17 - have taken part in workshop sessions aimed at raising aspirations and awareness of higher education.
The groups also visited the University to experience student life by taking part in sport and social activities at Bangor University's Ffriddoedd Residential Site, while other activities have included a visit to the University's Natural History Museum and School of Psychology. Throughout the project, current Bangor University students were on hand to help with the activities, ensuring that the youth club members had plenty of opportunities to ask them about their experiences and find out more about the University.
One of the youth clubs involved was Talysarn Youth Club in Dyffryn Nantlle, where the youth club leader, Nick Thomas, was full of praise for the project.
"It's been a fantastic opportunity for the young people to realise what they can achieve and they've learnt a lot about what higher education is really like," said Nick. "They've also had great fun experiencing student life!"
"The young people have really enjoyed the sessions, especially visiting the University itself and getting to meet some of the students here," said Widening Access Assistant, Anna Macdonald, from the University's Communications and Marketing department. "Many of the young people have now decided that they would like to go on to university in the future, which is something that some of them had not previously considered."
Carys Roberts, Assistant Director (Corporate Communications & Marketing) said that the Youth clubs project is just one example of Bangor University's widening access and outreach work.
"We also run GCSE revision courses, Science workshops for girls, a Summer School for Year 12 pupils and an aspiration-raising programme called TOP which involves over 1,700 pupils across north Wales," she said, adding "Promoting higher education and the opportunities available to young people is a vital part of Bangor University's work."


Publication date: 11 February 2014