Biodiversity and ecosystem functioning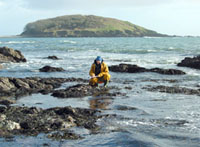 Understanding the relationship between biodiversity and the functioning of ecosystems has been a major focus of ecological research over the past two decades. Research in this area in the marine environment has presented fresh challenges as well as opportunity.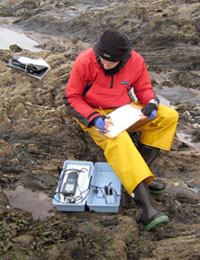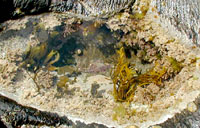 Our research has used tractable intertidal and shallow sub-littoral marine communities to assess how partitioning of resources can lead to positive effects of both taxonomic and functional diversity on productivity and energy flow. In addition we have examined how a more realistic view of biodiversity effects may be gained by predicting the sensitivity of species to disturbance and hence local extinction combined with understanding of patterns of dominance in natural communities.
Associated publications
Davies TW, Jenkins SR, Kingham R, Kenworthy J, Hawkins SJ, and Hiddink, JG 2011
Dominance, biomass and extinction resistance determine the consequences of biodiversity loss for multiple coastal ecosystem processes. PLoS ONE 6(12): e28362
View website
Davies, T. W., Jenkins, S. R., Kingham, R., Hawkins, S. J. and Hiddink, J. G. (2012)
Extirpation-resistant species do not always compensate for declines in ecosystem processes associated with biodiversity loss. Journal of Ecology, 100, 1475-1481.
Griffin JN, De La Haye KL, Hawkins SJ, Thompson RC, Jenkins SR 2008
Predator diversity and ecosystem functioning: density modifies the effect of resource partitioning. Ecology 89: 298-305
Griffin JN, Méndez V, Johnson A, Jenkins SR, Foggo A. 2009
Functional diversity predicts overyielding effect of species combination on primary productivity Oikos 118: 37-44
Griffin JN, Noel L, Crowe T, Burrows MT, Hawkins SJ, Thompson RC, Jenkins SR 2010
Consumer effects on ecosystem functioning in rockpools: roles of species richness and composition Marine Ecology Progress Series 420: 45-56
Griffin, JN, Jenkins, SR, Gamfeldt, L, Jones, D, Hawkins, SJ, Thompson, RC 2009
Spatial heterogeneity increases the importance of species richness for an ecosystem process. Oikos 118,: 1335-1342
View website
Arenas F, Sanchez I, Hawkins SJ, Jenkins SR 2006
The invasibility of marine algal assemblages:role of functional diversity and identity. Ecology 87: 2851-2861
View website
Crowe TP, Cusson M, Bulleri F, Davoult D, Arenas F, Aspden R, Benedetti-Cecchi L, Bevilacqua S, Davidson I, Defew E, Fraschetti S, Golléty C, Griffin JN, Herkül K, Kotta J, Migné A, Molis M, Nicol SK, Noël L, Sousa Pinto I, Valdivia N, Vaselli S, Jenkins SR. 2013
Large-scale variation in combined impacts of canopy loss and disturbance on community structure and ecosystem functioning. PLoS ONE 8(6): e66238. doi:10.1371/journal.pone.0066238
Martins GM, Arenas F, Neto AI, Jenkins SR 2012
Effects of fishing and regional species pool on the functional diversity of fish communities PLoS ONE 7(8): e44297. doi:10.1371/journal.pone.0044297