Marine protected areas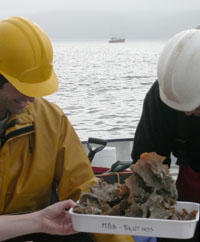 Marine protected areas are increasingly being used as a tool for conservation of biological diversity and for achieving sustainable fisheries. We are studying what the effects of marine reserves on biodiversity and fisheries are. The placement of the reserves is very important, there is for example little point in protecting areas of low biodiversity potential where the effect of fishing is minimal, if it results in a displacement of fishing activity to other areas, and in particular if these areas have a high biodiversity and are currently not fished. Our research also highlights that it is important to quantify the rate of recovery of benthic invertebrates from bottom trawling and scallop dredging activities as this determines the time scale over which benefits may be realized.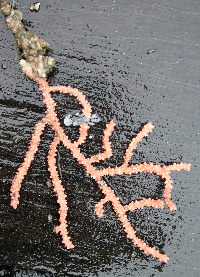 Associated publications
Fenberg P, Caselle J, Claudet J, Clemence M, Gaines S, Garcia-Charton JA, Goncalves E, Grorud-Colvert K, Guidetti P, Jenkins SR, Jones P, Lester S, McAllen R, Moland E, Planes S, Sorensen T 2012
The science of European marine reserves: status, efficacy, and future needs. Marine Policy 36, 1012-1021
Hinz, H., Tarrant, D., Ridgeway, A., Kaiser, M. J., Hiddink, J. G. (2011)
Effects of scallop-dredging on temperate reef fauna. Marine Ecology Progress series, 432, 91-102
Jackson, E. L., Davies, A. J., Howell, K. L., Kershaw, P. J. and Hall-Spencer, J. M. (2014)
Future-proofing marine protected area networks for cold water coral reefs. ICES J. Mar. Sci. 71 (9): 2621-2629. doi:10.1093/icesjms/fsu099
View website
Jennings, S., Lee, J. and Hiddink, J. G. (2012).
Assessing fishery footprints and the tradeoffs between landings value, habitat sensitivity and fishing impacts to inform marine spatial planning and an ecosystem approach. ICES Journal of Marine Science, 69, 1053-1063. doi:10.1093/icesjms/fss050.
Johnson, A. F., Jenkins, S., Hiddink, J. G. and Hinz, H. (2013).
Linking temperate demersal fish species to habitat: scales, patterns and future directions. Fish and Fisheries, 14: 256-280 10.1111/j.1467-2979.2012.00466.x.
Lambert, G. I., Jennings, S., Kaiser, M. J., Davies, T. W. and Hiddink, J. G. (2014)
Quantifying recovery rates and resilience of seabed habitats impacted by bottom fishing. Journal of Applied Ecology, 51, 1326-1336.
View website
Sciberras M, Hinz H, Bennell J, Jenkins SR, Hawkins SJ, Kaiser MJ 2013
Benthic community response to a scallop dredging closure within a dynamic seabed habitat. Marine Ecology Progress Series 480:83-98
Sciberras M, Jenkins SR, Kaiser MJ, Hawkins SJ and Pullin AS. 2013
Evaluating the relative conservation value of fully and partially protected marine areas. Fish and Fisheries, 16 (1), 58-77. DOI: 10.1111/faf.12044
Blyth-Skyrme, R.E., Kaiser, M.J., Hiddink, J.G., Edwards-Jones, G. and Hart, P.J.B. (2006)
Conservation benefits of temperate marine protected areas: variation among fish species. Conservation Biology, 20, 811-820.
View website
Hiddink, J.G., Hutton, T., Jennings, S. and Kaiser, M.J. (2006)
Predicting the effects of area closures and fishing effort restrictions on the production, biomass, and species richness of benthic invertebrate communities. ICES Journal of Marine Science, 63, 822-830.
View website
Kaiser M.J., Blyth-Skryme R.E., Hart P.J.B., Edwards-Jones G. and Palmer D. (2007).
Evidence for greater reproductive output per unit area in areas protected from fishing. Canadian Journal of Fisheries and Aquatic Science 64: 1284-1289.
Kaiser, M.J. (2005)
Are Marine Protected Areas a red herring or fisheries panacea? Canadian Journal of Fisheries and Aquatic Science, 62, 1194-1199.
Martins GM, Jenkins SR, Hawkins SJ, Neto AI, Medeiros AR, Thompson RC, 2011
Illegal harvesting affects the success of fishing closure areas. Journal of the Marine Biological Association 91: 929-937
PB Fenberg, JE Caselle, J Claudet, M Clemence, SD Gaines, ...
The science of European marine reserves: Status, efficacy, and future needs Marine Policy 36 (5), 1012-1021
PDF or website