Ecosystem Services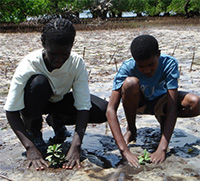 Ocean Sciences research has shown restoring tree diversity to degraded sites boosts mangrove ecosystem services. Photo: MW Skov
The School of Ocean Sciences has significant engagements in Ecosystem Services research, several of which are in partnership with major national and international stake holders. The following gives a few examples of the types of ecosystem services research undertaken at the School. The text uses the typology of the Millennium Ecosystem Assessment and defines ecosystem services in four classes - Provisioning, Regulating, Supporting and Cultural Ecosystem Services. We recognise that several other classification schemes are in operation and development. Full details of cited references are listed at the Ocean Science web pages for individual staff; follow the links.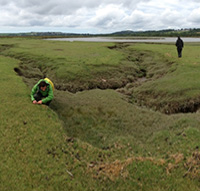 Significant research on ecosystem service provisioning by coastal wetlands, including salt marshes, seagrasses and mangroves.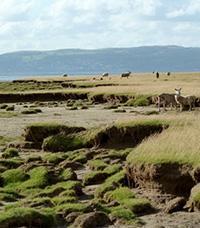 Resistance to salt marsh erosion is linked to vegetation diversity.
Biodiversity and ecosystem service relationships.
The School has substantial history of researching the relationships between ecosystem functioning biodiversity (Griffin et al 2010; Davieset al 2011, 2012). In recent years there has been a major push to take this on to studying the associations of ecosystem services with biodiversity. Thus, the coastal wetland team has made considerable advances in understanding the effects of incorporating tree diversity into mangrove restoration efforts. Their long-term experimental research on East African mangroves showed that planting biodiverse tree assemblages can boost above and below-ground carbon storing, habitat provisioning for invertebrate fauna, as well as sediment accretion, which ultimately underpins erosion protection by mangroves (Kirui et al 2008, 2010; Huxham et al 2010a,b, Lang'at et al 2013, 2014). In the UK, Ocean Science staff contribute frontline research to major national research programmes, such as BESS (Biodiversity and Ecosystem Services Sustainability), to understand how regulating, supporting and cultural services of mudflat to saltmarsh landscapes are underpinned by microbial, macrofaunal and macrophytic biodiversity . Using salt marshes as the experimental system, we demonstrated for the first time that erosion protection by wetlands is linked to vegetation diversity, along with contextual determinants of marsh resilience (Ford et al 2016a). The team has also shown that habitat provisioning for invertebrate fauna is associated with structure that arises from compositional diversity of coastal vegetation (Ford et al 2016b). The ecosystem services work in coastal wetlands is supported by innovative bio-physical research approaches, such as the use of hydrological flumes at Ocean Sciences for experimental erosion of sediment cores with different vegetation communities.
Management of ecosystem services.
Current governmental and non-governmental management of ecosystem services is challenged by simple research gaps, such as knowing the existing distribution ecosystem services across natural landscapes, and complex problems, such as being able to predict the future responses of ecosystem services to environmental change (Bouma et al 2014). We combine fundamental research on the current patterns of distribution of ecosystem services (e.g., Walton et al 2015), with experimental and modelling approaches to produce spatially explicit predictions of the present and future distribution marine ecosystem services. For instance, we recently produced a tool for predicting carbon stocks, erosion protection and habitat provisioning across salt marshes from simple observations of vegetation diversity and sediment composition - a feat that was underpinned by broad-scale field observations of 30 salt marshes in England and Wales, coupled to laboratory work and analytical modelling and culminating in field validations of prediction powers. We also examine the implications of management strategies on the delivery of marine ecosystem services. Thus, we have made significant contributions to understanding how management of livestock grazing affects carbon sequestration and habitat provisioning for birds in salt marshes (Sharps et al 2015, 2016).

Consecutive multi-disciplinary research projects with partners in the UK and Kenya has brought significant socio-economic benefits to the East African villages where Ocean Science staff research on mangrove and seagrass ecosystem services takes place. Using information on forest functioning and the socio-economic dependency of local people on mangroves, in 2013 the team launched the worlds' first carbon-trading project with mangroves: Mikoko Pamoja. Mikoko Pamoja is owned and governed by the local community and is at the very frontier in implementing Payment for Ecosystem Services schemes (PES) for marine ecosystems. In 2015, the research efforts that underpinned Mikoko Pamoja was recognised for excellence in research impact: it reached the top of ˜7,000 research impact cases submitted to UK's Research Excellence Framework (REF ); the REF is the most important measure of research impact by UK universities and is done at 7 year intervals.
Resilience of coastal ecosystems and ecosystem services.
Resilience is becoming one of the most important topics of current environmental management and ecological research. While there is much focus on managing systems to safeguard the resilience of their ecosystem service delivery, there is little empirical understanding of the biological mechanisms that underpins resilience, or the processes that cause resilience to erode and ecosystem to collapse (regime shifts). Ocean Sciences, with partners in England, Wales and the Netherlands, is researching how flood protection by coastal ecosystems is affected by bio-physical interactions (Bouma et al 2014). Using historical aerial photography, terrestrial laser scanning and time-series photography of locations in west England and Wales, we have found that individual salt marshes undergo sudden regime shifts at a local scale, and change from a marsh state into a mudflat state or vice-versa, but that marsh area cover remains constant on an estuarine scale, implying that marshes are resilient to environmental change ( RESILCOAST ). We are currently researching what the mechanisms for such resilience is, how these will respond to emergent climate change, and what the implications are to ecosystem service delivery and Shoreline Management Planning. The work involves experimental manipulation of vegetation composition, environmental stressors and hydrological forcing, as well as mathematical modeling of coastal geomorphological change.
Valuing ecosystem services.
Ocean Sciences also delivers research to facilitate the economic valuation of ecosystem services by marine systems. For instance, we examined the spatial distribution of non-extractive uses of marine biodiversity (diving, kayaking, wildlife watching from boats and seabird watching) in coastal areas of Wales and found the economic value was comparable to that delivered by commercial fisheries in the region (Ruiz-Frau et al 2012).